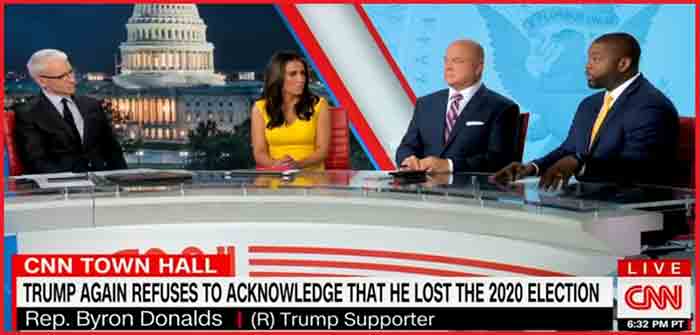 by Sundance at The Conservative Treehouse
Congressman Byron Donalds represents Southwest Florida CD-19; he comes from good stock.   After the CNN attack townhall in New Hampshire last night, Donalds appeared on a CNN panel to discuss.
Prior to Donalds joining the panel, the six other panelists were echo-chambering their narrative talking points without rebuttal. Donalds put that nonsense to rest. However, beyond the epic pushback, notice how the panel reacts to having their narrative challenged; this should be very familiar to people.
Notice how when confronted by an opposing viewpoint the panel uses a familiar tactic. Instead of discussing the policy points, the issues at the heart of the policy positions, the panel instead begins to question the person confronting them.  "Do you want Ukraine to win," is one question. "Do you accept the results of the 2020 election" is another.
The CNN panel approach is to make the person pushing back become the issue, because the points raised are antithetical to their belief system.  This method of distraction is straight from the Alinsky rulebook about debating opposition.  Byron Donalds succeeds because he doesn't engage the nonsense. 
WATCH:…
Continue Reading