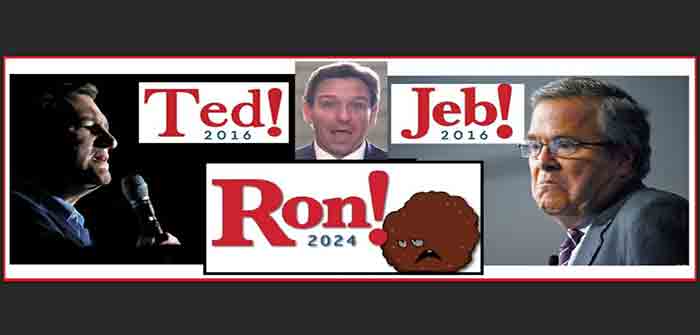 by Sundance at The Conservative Treehouse
Now that the people who created, manage and construct the branding for Ron DeSantis have finally made the admission to push their puppet into the 2024 race, we should probably talk about what the person representing their quest is all about.
First, the obvious.  Notice how the managers will not allow Ron DeSantis to hold a public campaign event in Florida?   This is a tenuous time for them, and they cannot allow the optics of DeSantis being protested by Republicans in his home state to undermine their effort.  DeSantis must be shielded in order to protect their investment into his purpose.
Second, another seemingly obvious aspect that might need clarification.  Who is the DeSantis support system?  2024 candidate Ron DeSantis is the creation of two political groups who have merged in common effort.  The two former campaigns of Team Jeb Bush and Team Ted Cruz have merged into the 2024 alliance for Team Ron!
The Never Trump Republicans, who were team Jeb in 2016, have aligned with the 2016 Cruz Crew and created the 2024 Republicans Against Trump (RAT) assembly.
You will notice immediately all of the former Ted Cruz bigCON media groups have rebranded for 2024 as bigCON pro Ron.  The 2016 Cruz affiliated websites and alt-media groups are all now Ron DeSantis websites and media support groups.  This network includes the entire 2016 Cruz Crew, Dana Loesch, Mark Levin, Ken Cuccinelli, Jeff Roe, et al.  All of the former Ted Cruz supporting websites will now support Ron DeSantis.
The alliance between Team Jeb and Team Cruz gets interesting when you realize…
Continue Reading