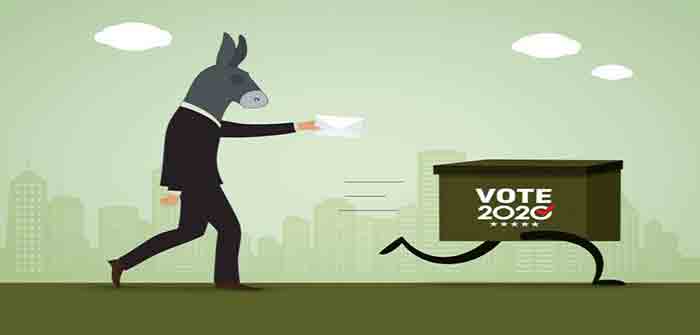 In March, as governors across the country first issued coronavirus restrictions, the Democratic Party began taking steps to make universal vote-by-mail its top priority in 2020. The stated reason for this strategy was to avoid vast voter disenfranchisement as Americans headed to the polls in November. Democrats argued that coronavirus presented an insurmountable obstacle to voters, and requested that the trillion-dollar coronavirus relief bill in March include a federal vote-by-mail mandate. 
Nationwide, Democrats filed an unprecedented number of vote-by-mail lawsuits, further adding to the general impression that voters face an unusually burdensome set of obstacles in the 2020 election.
Yet despite their concerns, Democrats and their lead election attorney—Marc Elias of Perkins-Coie LLC (yes, that Perkins-Coie)—chose to pursue an eight-months-or-less timeline to implement voting by mail nationwide. Even as Elias himself stated USPS would struggle to meet this framework, as the five states with universal vote-by-mail prior to 2020 had all required several years to implement and refine their programs.
While Democrats turned a blind eye to the logistical difficulties of their new priority, Republicans claimed Democrats intended to cause chaos in November with widespread vote-by-mail. They also claimed Democrats intended to blame Trump's handling of USPS—in particular his refusal to implement vote-by-mail on a scale and timeline (nationally, in eight months or less) that has never been done before—for any ensuing chaos.
These Republican accusations—that Democrats are primarily interested in voting-by-mail because of the fraud and tampering opportunities it presents, and secondarily because it enables Democrats to accuse President Trump of attempting to disenfranchise voters should he fail to go along with their national vote-by-mail agenda—are supported by new information.
It appears Democrats blatantly misrepresented the financial solvency of the USPS in an attempt to accuse President Trump of withholding coronavirus relief funds so that he might steal the election. 
Democratic Party leaders began to allege in March that USPS finances may cause problems with November's election. They made similar claims in April, May, June, and July.
It is clear, however, that they had access to USPS annual reports and revenue statements showing these claims to be inaccurate as early as April 19.
Preparing the Ground…
Continue Reading