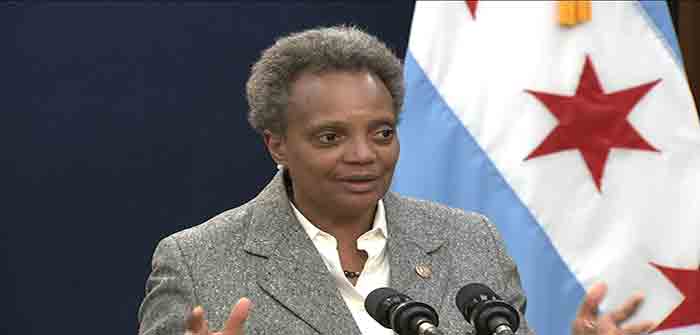 by Nick Monroe at The Post Millennial
By now I hope you all realize that you don't hear about city mayors who just do their job. It's always the so-called go-getters like Chicago Mayor Lori Lightfoot that get nationwide traction. In her case it's a Tucker Carlson segment mocking her.
To put it another way, there's a reason why people like Lightfoot or AOC make a public display of continuing to wear masks despite updated CDC guidance.
Lightfoot's controversial decision to only invite black and brown journalists to her office for one-on-one interviews is making the social media waves these past couple of days. That's because it's the first time a modern politician is endorsing 1950s style discriminatory practices.
"I think in this one day, when we are looking at the two-year anniversary of my inauguration, as a women of color, as a lesbian, it's important to me that diversity is put front and center," the Chicago Mayor said in justification for prioritizing people based on racial characteristics.
The video clip's narrator said the "mostly white" Chicago City Hall press corps was mad about this practice of racial bias. On Twitter Lightfoot expressed her disgust that it's mostly white folks who reported on her.
Gregory Pratt of the Chicago Tribune is a Latino, so he'd be allowed in Mayor Lightfoot's "clubhouse" for an interview. Pratt made the request, but then demanded Lightfoot lift this race-based policy. When the Mayor refused, Pratt canceled on her.
"If I as the black woman mayor, the first ever… don't challenge us. The collective us, to do better. To really, make sure that … in every institution, it reflects the diversity and nuance and texture of our city, then shame on me."
The Mayor hates it when reporters challenge her and…
Continue Reading