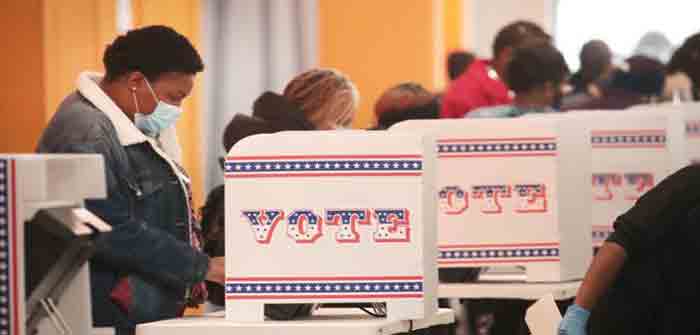 by John Solomon at Just the News
After the 2020 election ended with Joe Biden declared the winner, the federal cybersecurity agency declared it was a perfectly secure vote. Months later, federal prosecutors admitted two Iranian nationals hacked into a state's database and stole the identities of 100,000 voters in an effort to influence the election.
Likewise, Wisconsin Gov. Tony Evers declared it was "outrageous" to think his state's 2020 election needed to be investigated. Now, two separate courts have concluded that state election regulators illegally changed rules, allowing tens of thousands to cast ballots in an unlawful manner.
And that probe Evers so stubbornly resisted just provided evidence of fraudulent vote-collecting operations that exploited vulnerable residents in nursing homes.
Georgia's elections chief similarly expresses confidence to this day in his state's declaration that Joe Biden won in 2020, but he now admits the state's largest county ran a vote counting operation so dysfunctional that the state may take over the county. He also has launched a probe into potential illegal harvesting of ballots that he says may result in prosecutions.
And Arizona, one of the first states to move to no-excuse mail-in voting years ago, has now begun an urgent effort to return to traditional in-person voting with paper ballots after investigations called into question more than 50,000 ballots cast in November 2020 and tens of thousands more verification signatures.
For more than a year, Democrats and their allies in the corporate media have decried what they call the "Big Lie" that America's 2020 election was flawed or stolen. But almost weekly now, revelations are emerging that the election was, in fact, marred by illegalities, irregularities and mismanagement like former President Donald Trump has argued, leaving a nation increasingly doubting the reliability of its election system.
A recent poll found that 40% of Americans no longer believe in the legitimacy of the winner of either of the last two presidential elections, a stunning number for a country globally held as the gold standard for constitutional republics built on democracy.
"We have a lot of work to do," former Ohio Secretary of State Ken Blackwell told Just the News on Wednesday. "And so I never sugarcoat this, because there's substantial voter dissatisfaction with the the lack of security of our ballots. And they are very concerned that folks who are voting are folks who are not eligible to vote. And so you can't have a system where illegal ballots negate the casting of legal ballots."
The 2020 election results almost certainly won't be reversed, no matter how widespread the calls for decertification grow. But the opportunity to take the many failures of the last election seriously to improve Americans' confidence in voting in the 2022 and 2024 elections looms large, experts told Just the News.
"We need to make sure our voting rolls are clean," Wisconsin State Rep. Janel Brandtjen told Just the News. She oversees the Assembly committee on election integrity and blasted Democratic Gov. Tony Evers for vetoing legislation designed to fix many problems identified in the Dairy State.
"At this point, there is no downside to cheating in Wisconsin, when you have a governor that's shutting down a lot of the things that we've thought in the past as Republicans and Democrats that would make a fair and transparent election," she added.
Here are 20 of the most important revelations uncovered by Just the News over the last 15 months of reporting, complete with substantiating evidence and links"
A Foreign Intrusion. Federal authorities have confirmed that two Iranian nationals successfully hacked into a state computer election system, stole 100,000 voter registrations and used the data to carry out a cyber-intimidation campaign that targeted GOP members of Congress, Trump campaign officials and Democratic voters in the November 2020 election in one of the largest foreign intrusions in U.S. election history. The defendants "were part of a coordinated conspiracy in which Iranian hackers sought to undermine faith and confidence in the U.S. presidential election," U.S. Attorney Damian Williams declared in an indictment.
Alleged Bribery…
Continue Reading