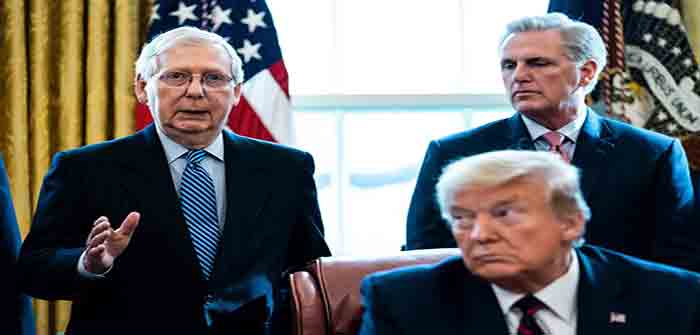 by Cullen McCue at National File
Disgraced FTX founder Sam Bankman Fried, commonly referred to as "SBF," bragged about using a Citizens United loophole to give $37 million in "dark money" to Republicans. The term "dark money" refers to political spending in which the funding source is not disclosed. As National File previously reported, longtime GOP House Leader Kevin McCarthy (R-CA) in part used FTX funds to attack America First/MAGA candidates in GOP primaries before withholding funding in the general election. Dark money PACs also mobilized to defeat notable America First Republicans in Anthony Sabatini of Florida and Joe Kent of Washington.
In recently released audio, SBF can be heard discussing how he donated $37 million in dark money to Republicans. His reasoning was that the corporate press would have "freaked out" if he donated the funds outright.
"I donated about the same amount to both parties this year," SBF said. He then went on to brag about how easy it is for big money donors to skirt the Citizens United ruling
"That is not generally known because, despite Citizens United being literally the highest profile Supreme Court case and the thing everyone talks about when they talk about campaign finance. For some reason, in practice, no one can possibly fathom the idea that someone in practice actually gave dark," he said.
"So, I don't know, all my Republican donations were dark," SBF continued. "And the reason was not for regulatory reasons, it's just reporters freak the f**k out if you donate to a Republican, they're all secretly liberal and didn't wanna have that fight, so I made all the Republican ones dark," the disgraced FTX boss said of his Republican donations.
BREAKING🚨:

SBF used a loophole in the Citizens United rule to donate $37M of "dark money" to Republicans

"I donated about the same amount of money to both parties this year … I just didn't disclose the Republican ones bc the media would freak the f*** out" pic.twitter.com/IUh6VG42nq

— Nancy Pelosi Stock Tracker ♟ (@PelosiTracker_) November 29, 2022
While SBF did not disclose all of his donations to Republicans,…
Continue Reading