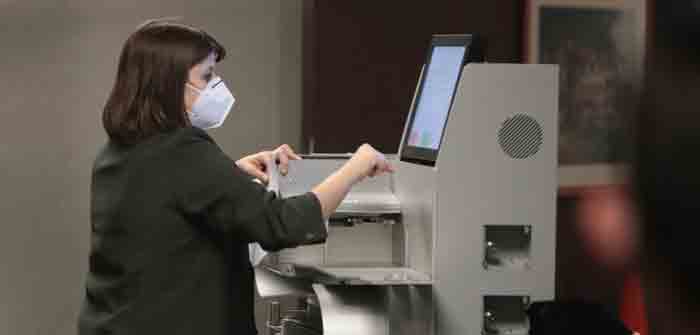 by Emerald Robinson at Emerald Robinson's The Right Way
If you want to unravel the mysterious results of the 2020 election, you must begin by asking a simple question: why were 78 million American votes from 800 counties in 7 states sent overseas to be "handled" by a bankrupt Spanish company in Barcelona?
This was the question I found myself asking after Election Day in 2020. Someone had told me to check out a foreign company specializing in election technology called SCYTL. According to its website, the Department of Defense was one of their main customers. SCYTL's website also bragged that it played a big part in our 2020 elections. Why would the DoD subcontract a Spanish company located in Barcelona to handle 78 million votes from 800 counties? For that matter, why was the Department of Defense involved in American elections at all?
Who was running our elections? I thought we were running our elections. Didn't you? It took about three minutes on the Internet to figure out that SCYTL had gone bankrupt right before the 2020 election. It took another three minutes to learn that SCYTL set up a voting system in Switzerland that was abandoned after Swiss authorities launched a public code review in 2019 where researchers discovered errors in the source-code that would allow the system's operator to alter votes undetected. Does that sound familiar?
This was the first of many rabbit holes where a reporter could get lost for days. What was Scytl? Who owned it? Who operated it? The corporate media had no interest in these questions, and it wanted to obscure any answers. None of them wanted to do any investigation into why a bankrupt Spanish company was involved in our elections — but even the New York Times had to admit:
Scytl, which was started in Spain in 2001, does make software for local election officials, including some in the United States. In the 2020 election, it says, it provided four types of products to local authorities. One is a system that allows election officials to display results from their elections in a user-friendly format. Another product, "electronic ballot delivery," helps local election officials deliver ballots to absentee voters.
Ah yes, there's nothing suspicious about bankrupt Spanish firms being contracted by the Department of Defense to handle electronic ballots in the United States!
When we talk about our elections, we have to talk about "chain of custody." You would never allow our precious votes to be sent overseas to be counted in foreign countries by foreign companies if you cared about security. That would be the opposite of election security. And yet it's true: a Spanish company called SCYTL "handled" 78 million US votes because it was subcontracted to do so by the Pentagon. When did the U.S. military tell you that it was in charge of your elections? Never. That's all the proof of fraud that you need really.
The smaller frauds inevitably lead you to the bigger fraud. Why did…
Continue Reading