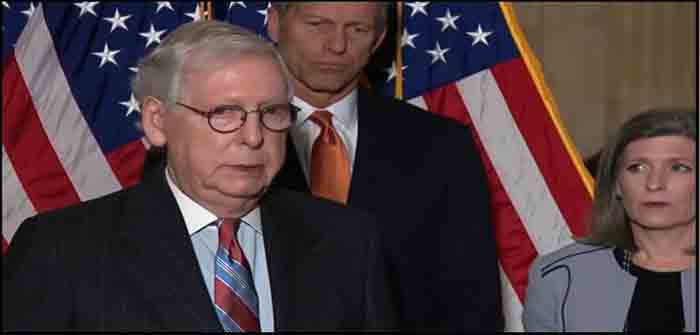 by Chris Jacobs at The Federalist
For someone held up as a legislative genius/strategical mastermind, Mitch McConnell sure has had a run of clunkers lately.
The Kentucky senator and Senate minority leader, who embraced the moniker Darth Vader for his purported ability to thwart Democrats' ambitions, looked foolish last week. The Republican leader flopped when his Democratic counterpart, Chuck Schumer, D-N.Y., announced a deal with Sen. Joe Manchin, D-W.Va., on a tax-and-spending binge mere hours after McConnell and 16 other Republicans voted on final passage of a pork-laden spending bill they had previously vowed to stop.
But last week's debacle, in which Sen. John Kennedy, R-La., said Republicans "got rinky-doo'd — that's a Louisiana word for 'screwed,'" represents only the most recent instance of McConnell's stratagems coming a-cropper. In reality, Schumer has out-maneuvered McConnell on most of the important legislative packages during the 117th Congress:
Cave #1: Debt Limit
As I explained last fall, once House and Senate Democrats agreed to a budget resolution in August that did not include an explicit provision to raise the debt limit via budget reconciliation, Democrats forfeited all their leverage over the debt limit. After that point, they needed Republican cooperation to raise the debt limit — either one Republican senator needed to attend a committee markup, to allow Democrats to amend the budget resolution so all 50 Democrats could raise the debt limit via budget reconciliation, or 10 Republicans needed to vote for the bill on the Senate floor to overcome a filibuster.
McConnell had an enormous amount of leverage…
Continue Reading