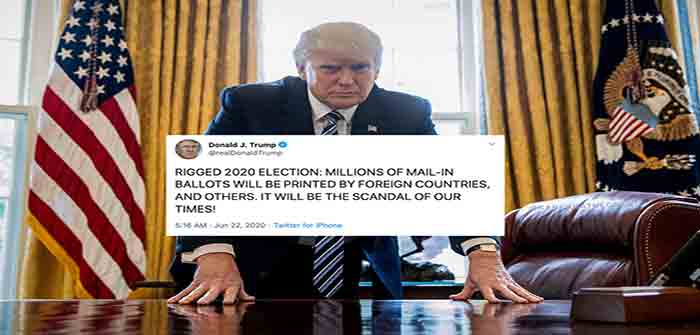 by KanekoaTheGreat at Kanekoa's Newsletter
"Votes cast by mail are less likely to be counted, more likely to be compromised and more likely to be contested than those cast in a voting booth, statistics show… Voting by mail is now common enough and problematic enough that election experts say there have been multiple elections in which no one can say with confidence which candidate was the deserved winner… Absentee ballots also make it much easier to buy and sell votes… all the evidence of stolen elections involves absentee ballots and the like."
The above quote was compiled from a 2012 New York Times article entitled, "Error and Fraud at Issue as Absentee Voting Rises". Before the 2020 election, there was a bipartisan consensus that voting by mail was more easily abused than in-person voting.
In a 2005 report signed by President Jimmy Carter and James A. Baker III, who served as secretary of state under the first President George Bush, the Commission on Federal Election Reform report stated, "Absentee ballots remain the largest source of potential voter fraud."
Specifically, the report called on states to prohibit third parties or political operatives from collecting ballots—a practice commonly known as "ballot harvesting."
"State and local jurisdictions should prohibit a person from handling absentee ballots other than the voter, an acknowledged family member, the U.S. Postal Service, or other legitimate shipper, or election officials," the 2005 commission report said. "The practice in some states of allowing candidates or party workers to pick up and deliver absentee ballots should be eliminated."
A Slate article stated in 2016, "the only voting fraud schemes with the potential to actually swing elections involved mail-in ballots… This makes sense: It's much easier to forge a signature, impersonate a voter, or buy a vote in the privacy of one's home than it is in a voting booth at the polls…If Republicans were truly serious about eradicating voter fraud, they would severely restrict absentee voting, permitting it only when voters have a good excuse, like illness."
In March 2020, as coronavirus lockdowns rolled out around the country, prominent Democrats such as Joe Biden, Hillary Clinton, Nancy Pelosi, and Barack Obama publicly called for a "vote-by-mail" election and "no-excuse absentee voting".
On March 15, 2020, Joe Biden tweeted, "If you're exhibiting symptoms of COVID-19 — or might be at risk — absentee or vote by mail options are the best way to make your voice heard, while protecting your neighbors."…
Continue Reading