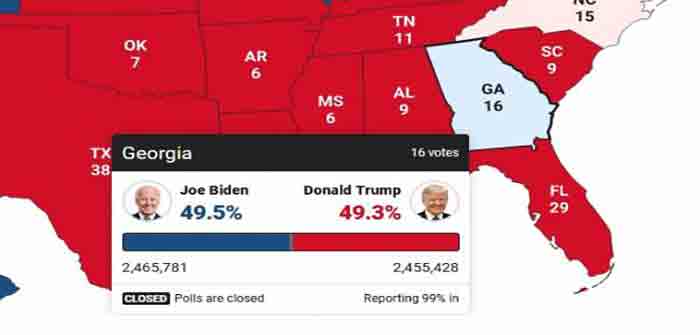 by Joe Hoft – The The Gateway Pundit
Kyle Becker and People's Pundit on Twitter announced moments ago that 132,000 ballots in Fulton Country Georgia are likely ineligible.
GEORGIA.

132,000 "Change of Address" RED FLAGS in Fulton County, GA. These votes are "highly likely ineligible to vote and have moved," per source.

Biden leads Georgia by 10K votes as of last update.

It's enough to be a *gamechanger.* 🚨🚨🔽https://t.co/J2X7VoEFkR

— Kyle Becker (@kylenabecker) November 8, 2020
As noted above, the current difference between President Trump and Joe Biden after days of ballot harvesting by the left is around 10,000 ballots.
If these ballots are deemed ineligible, the state of Georgia is almost certainly won by President Trump and this is before the illegal voter harvesting in recent days is addressed…
The Gateway Pundit is on top of all of the breaking news in the swing states. They are pumping out article after article. Visit their site by clicking on this – https://www.thegatewaypundit.com
Continue Reading