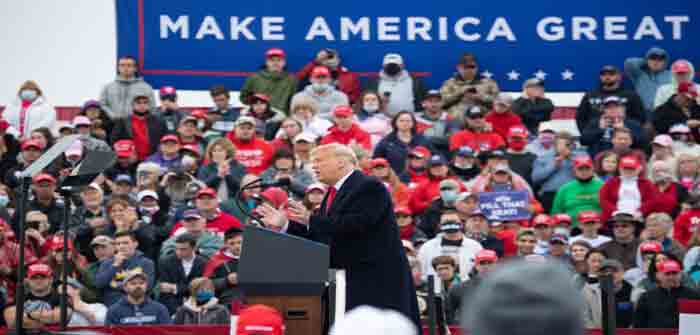 President Donald Trump on Oct. 26 appeared at several rallies in the battleground state of Pennsylvania, arguing that Democratic presidential nominee Joe Biden will kill the state's economy and energy industry.
"We win Pennsylvania, we win the whole thing," the Republican president said at an event in Allentown.
Trump went from Allentown to Lititz before visiting Martinsburg. Trump also has scheduled multiple stops in Michigan and Wisconsin this week, as well as visits to Arizona, Nebraska, and Nevada.
Biden appeared in Pennsylvania on Oct. 24 and spoke to several news outlets about his energy policy when asked about whether he would "transition from oil."
Trump said of Biden: "He wants to go with windmills that are made in Germany and China. … Biden's plan is an economic death sentence for Pennsylvania's energy sector.
"He will eradicate your energy and send Pennsylvania into a crippling depression."
After the Oct. 22 debate, Biden said that oil "has to be replaced by renewable energy over time, over time" and that as president, he'd "stop giving to the oil industry … stop giving them federal subsidies."
His campaign also has stated that he will not call for the total elimination of the oil and gas industries, although he has proposed ending federal leases on oil and gas drilling on federal land while ending subsidies to fossil fuels. Pennsylvania, after Texas, is the second-greatest producer of natural gas in the United States…
Continue Reading