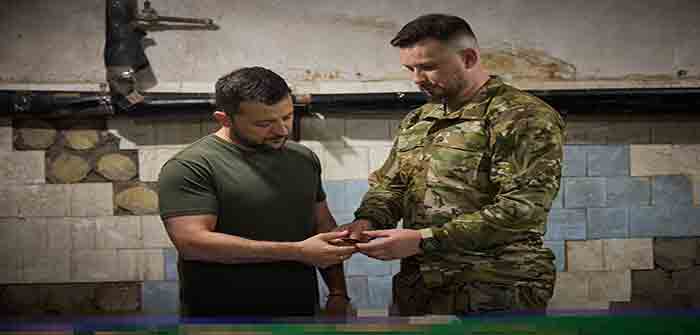 by Alexander Rubinstein at the Grayzone
Western media has dismissed evidence of neo-Nazi influence in Ukraine by citing President Zelensky's Jewish heritage. But new footage published by Zelensky shows the leader openly collaborating with a fascist ideologue who once pledged to "lead the white races of the world in a final crusade…against Semite-led Untermenschen."
Ukrainian President Vlodymyr Zelensky has uploaded a video to his Telegram channel showing him holding court with one of the most notorious neo-Nazis in modern Ukrainian history: Azov Battalion founder Andriy Biletsky.
On August 14, just over an hour after Secretary of State Anthony Blinken announced another $200 million in military aid to Kiev, Ukrainian President Vlodomyr Zelensky published the video depicting what he called an "open conversation" with Ukraine's 3rd Separate Assault Brigade.
"I am grateful to everyone who defends our country and people, who brings our victory closer," Zelensky wrote, following his encounter with the unit on the outskirts of Bakhmut.
While casual Western observers might not have realized it, the brigade Zelensky was addressing is actually the newest iteration of Ukraine's neo-Nazi Azov Battalion.
"The 3rd separate assault brigade, excellent fighters," Zelensky wrote days after the consultation, in a Twitter post which also alluded to a separate meeting with the Aidar Battalion, another neo-fascist outfit that has been accused of war crimes by Amnesty International. "They have stopped the enemy from advancing towards Kostiantynivka and pushed the occupiers back up to 8 kilometers."
But the group's origins are no secret. Describing their most recent rebrand in a…
Continue Reading