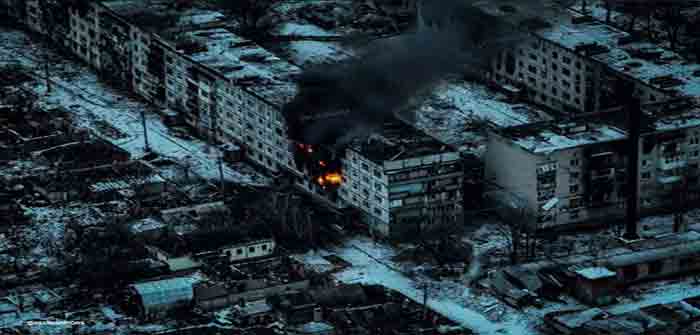 by Bernhard at Moon of Alabama
Just two days ago I reported that Bakhmut is falling. The Ukrainian soldiers there are outgunned 1 to 10 and die under artillery fire with little chance to shot back. More reports from the front have since come in. They support my dire view.
The German pro-Ukrainian news outlet Bild reported this morning that there were misgivings in the Ukrainian war leadership:
President Volodymyr Zelensky and Commander-in-Chief of Ukraine's Armed Forces Valerii Zaluzhnyi have conflicting views on how the military should handle the situation in Bakhmut, according to unnamed sources within the Ukrainian political leadership cited in a report by Bild.

Bild writes that Zaluzhnyi was deliberating a tactical withdrawal from Bakhmut weeks ago over concern for the wellbeing of his troops.

The Ukrainian government told Bild that remaining in Bakhmut was the right decision due to the serious damage it inflicted on Russian military personnel and equipment. However, according to other sources cited by the publication, the situation is at risk of becoming untenable.

"The vast majority of soldiers in Bakhmut do not understand why the city is being held," a Ukrainian military analyst told Bild on condition of anonymity.
Just hours after that item came out Zelensky's office issued a press release denying any such trouble (machine translation):
On Monday, President of Ukraine Volodymyr Zelenskyy held a regular meeting of the Supreme Commander-in-Chief's Staff.The commanders of the operational and strategic troop groups reported on the situation on the main front lines.

The members of the Staff considered the situation in Bakhmut in particular. Assessing the course of the defense operation, the President asked Commander-in-Chief of the Armed Forces of Ukraine Valeriy Zaluzhnyi and Commander of the operational and strategic grouping of troops "Khortytsia" Oleksandr Syrskyi about further actions in the Bakhmut direction. They spoke in favor of continuing the defense operation and further strengthening our positions in Bakhmut.
I do not believe that Zaluzhnyi and Sirskyi gave such advice. The situation for the Ukrainians in Bakhmut (Ru: Artyomovsk) is hopeless and they certainly know it. Losses would be less if the troops would pull back to the next defense line on the higher grounds west of Bakhmut…
Continue Reading