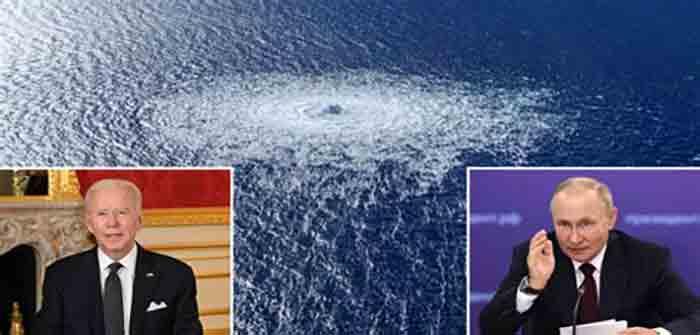 by Larry Johnson at A Son of the New American Revolution
In theory, a covert operation is supposed to be elegant, sophisticated and smart. But that is not the case with the United States these days. Ham-fisted and clumsy are more apt descriptors.
Yesterday's simultaneous release of a new account of who destroyed the Nordstream pipeline in the New York Times, Die Zeit and a London paper placing the blame on shadowy pro-Ukrainians was not a coincidence. This was a coordinated information operation and the media reaction to this news is quite telling. The same news outlets that strenuously ignored Sy Hersh's explosive, detailed revelation that it was a U.S. operation with help from Norway stumbled over themselves to breathlessly report that an unidentified pro-Ukrainian group was the guilty party.
Die Zeit provided the most hilarity with their fantastic tale of six people on a private yacht carrying out the deed. Looks to me like Die Zeit was channeling a Gilligan's Island episode. We had Ginger and Mary Ann, accompanied by the Professor, the Skipper, Thurston Howell and Gilligan. They set to sea with a 1000 pounds of high explosive and used their snorkel gear to plant the charge. I bet you it was Ginger and Mary Ann who planted the bomb, of course, was built by the crafty Professor.
Take a look at Moon of Alabama's detailed breakdown of the nonsense (read here).
No. You do not dive down to 80+ meter for an industrial size job, involving the placement of hundreds of pounds of explosives in eight individual charges on very sturdy pipelines, from a sparsely manned boat. Such deep dives require special gases, special breathing equipment, special training, a decompression chamber for emergencies and lots of well trained people to maintain all that stuff.
All three articles neglected to point out that you cannot dive in regular scuba gear to 200 feet in an arctic sea. You need a dry suit (as my friend Mark says, you look like the Stay Puft marshmallow man). That suit requires some specialized support equipment that does not fit on a yacht. This is a desperate, juvenile attempt to shift the blame from the United States. I cannot wait to see what happens when Sy drops a new story on Nordstream…
Continue Reading