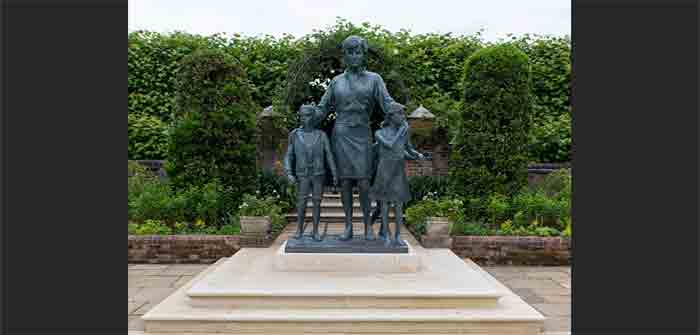 by Martin Robinson, James Felding, Rebecca English and Royal Editor at The Daily Mail
Prince Harry and Prince William today set aside their own differences to unveil a statue of their beloved mother on what would have been her 60th birthday and declared 'every day, we wish she were still with us' before the Duke of Sussex made a quick exit.
The brothers stood shoulder-to-shoulder before revealing a sculpture created in Princess Diana's honour and placed in the remodelled Sunken Garden of Kensington Palace, a place of solace and safety for her before she died in 1997.
The bronze made by Ian Rank-Broadley shows Diana with her arms around two children with another little boy following behind, and the image of their mother towered over the brothers as they revealed it to the world this afternoon surrounded by 4,000 of her favourite flowers.
Its design was top secret and appears to be inspired by Diana's official 1993 Christmas card – her first sent without Prince Charles – where she wears the same open ribbed shirt, skirt and belt as she smiles lovingly at her two sons.
But rather than depict her with her sons as she appeared in the card, she is posed with three children – two of whom are not wearing shoes. One of the boys appears to have short afro-style hair. The palace said 'it represents the universality and generational impact of The Princess' work.'
Prince Charles was not present at the ceremony, which was changed to a 'private event' instead of the large celebration to mark Diana's life as originally intended.
The move to scale back the unveiling was largely due to bad blood between the brothers and Harry's determination to control media coverage – and was only broadcast after it was over and the Duke of Sussex was leaving…
Continue Reading