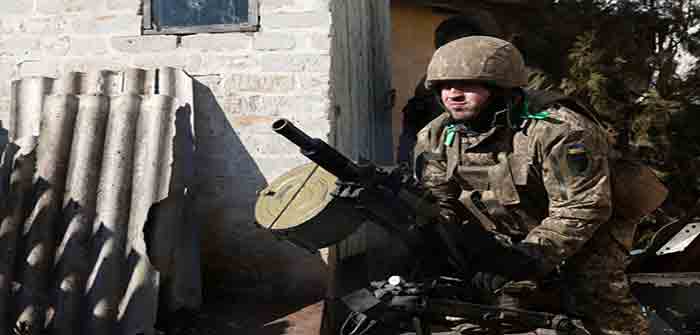 by Igor Kossov at The Kyiv Independent
Russia's relentless assault on Bakhmut is sacrificing waves and waves of unprepared men being sent to their deaths.
But multiple defenders of this embattled city in Donetsk Oblast feel that they are in a similar boat, according to interviews with more than a dozen soldiers currently fighting in or around Bakhmut.
During their brief visits to the nearby town of Kostiantynivka, Ukrainian infantrymen told the Kyiv Independent of unprepared, poorly-trained battalions being thrown into the front line meat grinder to survive as best they could with little support from armored vehicles, mortars, artillery, drones and tactical information.
"We don't get any support," says a soldier named Serhiy, who has been fighting on the front lines in Bakhmut, sitting down with his friend, also named Serhiy, for a conversation in a small cafe in the Kostiantynivka market. Both men are in their 40s but one of them is a bit older than the other.
All soldiers in this article have been identified only by first name or callsign because they spoke to a publication without authorization by a press officer.
They say that Russian artillery, infantry fighting vehicles and armored personnel carriers are often allowed to strike Ukrainian positions for hours or days without being shut down by Ukrainian heavy weapons. Some complained of poor coordination and situational awareness, allowing this to happen or making it even worse.
Mortarmen spoke of extreme ammunition scarcity and having to use weapons dating back to World War II. Drones that are supposed to provide critical reconnaissance information are also scarce and are being lost at very high rates in some parts of the battlefield.
All this leads to terrifying casualties of both dead and wounded. "The battalion came in in the middle of December… between all the different platoons, there were 500 of us," says Borys, a combat medic from Odesa Oblast fighting around Bakhmut. "A month ago, there were literally 150 of us."
"When you go out to the position, it's not even a 50/50 chance that you'll come out of there (alive)," says the older Serhiy. "It's more like 30/70."
The Office of the President of Ukraine has claimed that Russia may have lost tens of thousands of men during the Battle of Bakhmut as of mid-January. Fighting has since only intensified, with Ukraine repeatedly claiming close to a thousand Russians dead in its daily updates. As Bakhmut is seeing the heaviest fighting, most of these casualties are likely in that area. Authorities haven't revealed any information on Ukrainian losses in the Battle of Bakhmut.
Based on the soldiers' testimonies, Ukrainian losses appear to be high as well.
Worse by the day…
Continue Reading