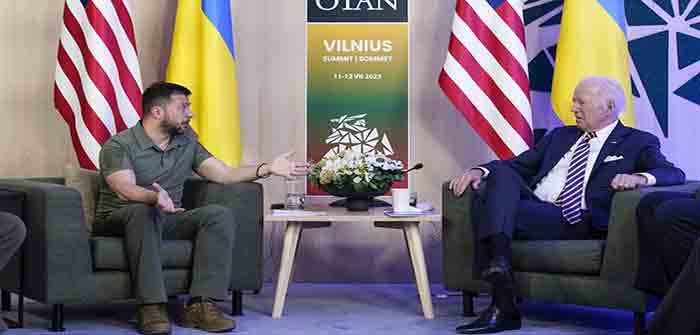 by Joel Gehrke at Washington Examiner
NATO leaders intend to invite Ukraine into the trans-Atlantic alliance after Kyiv regains control of Ukraine's sovereign territory, according to Ukrainian President Volodymyr Zelensky, amid an unfolding dispute about the alliance's ambiguous commitment to Ukraine's eventual membership.
"My understanding is that [conditions will be met] when it will be secure on our land, on our territory," he told reporters Wednesday.
Zelensky gestured towards that prospect one day after the alliance leaders unveiled a communique that offered a vague assurance that Ukraine would be invited "when Allies agree and conditions are met." NATO officials hailed the document as "stronger than any" previous declaration, but Ukrainian leaders were not satisfied.
"We are happy to see a will to consider invitation, but we are sad to see the absence of a clear timeline as to when Ukraine will be extended a NATO membership invitation," Ukrainian Foreign Minister Dmytro Kuleba told Radio Free Europe/Radio Liberty, a U.S.-funded outlet "We have a very positive paragraph [in the final statement] followed by another which amounts to a spoonful of tar that spoils the barrel of honey."
The NATO communique and arms deliveries were reinforced by a parallel statement from the G-7 bloc of the world's seven largest industrialized democracies — a group that includes Japan alongside the United States and five other NATO member-states.
"We will each work with Ukraine on specific,…
Continue Reading