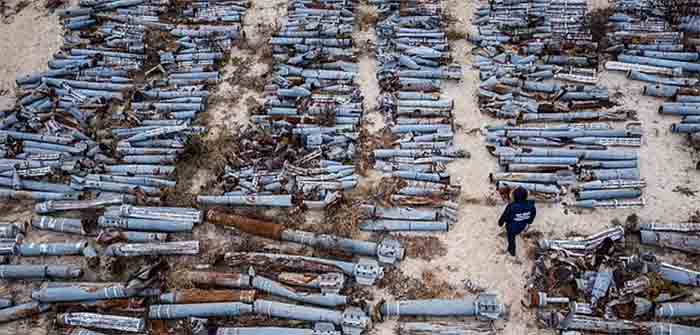 by Bernhard at Moon of Alabama
The Washington Post says that the U.S. will now give cluster munition to Ukraine.
Biden approves cluster munition supply to Ukraine
President Biden has approved the provision of U.S. cluster munitions for Ukraine, with drawdown of the weapons from Defense Department stocks due to be announced Friday.
The munition will be 155mm grenades, Dual Purpose Improved Conventional Munitions (DPICM), that can be fired by 'western' provided artillery.
bigger
The decision, likely illegal, was made because the U.S. and its allies have run out of other 155mm munitions:
The move, which will bypass U.S. law prohibiting the production, use or transfer of cluster munitions with a failure rate of more than 1 percent, comes amid concerns about Kyiv's lagging counteroffensive against entrenched Russian troops and dwindling Western stocks of conventional artillery.
It is accompanied by false statements that Russia has used such ammunition in Ukraine:
It follows months of internal administration debate over whether to supply the controversial munitions, which are banned by most countries in the world.Cluster weapons explode in the air over a target, releasing dozens to hundreds of smaller submunitions across a wide area.

More than 120 countries have joined a convention banning their use as inhumane and indiscriminate, in large part because of high failure rates that litter the landscape with unexploded submunitions that endanger both friendly troops and civilians, often for decades after the end of a conflict. The United States, Ukraine and Russia — which is alleged to have used them extensively in Ukraine — are not parties to the convention. Eight of NATO's 31 members, including the United States, have not ratified the convention.
It is well documented, by Human Rights Watch and others, that the Ukrainian military has used cluster munitions. There is nothing to support a claim that Russia has done so. The Pentagon has rejected claimed evidence of Russian cluster munition attacks:…
Continue Reading