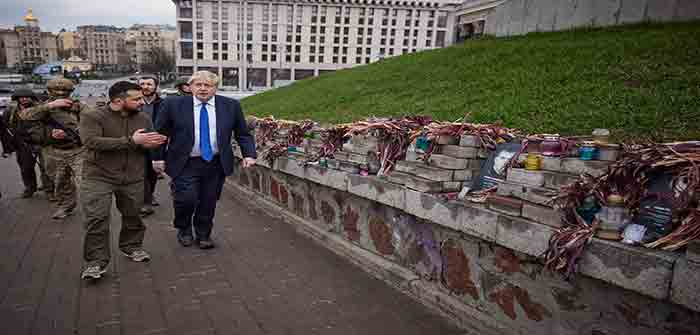 by Puck Henry at EPrime Feed
Rumors are circulating that the president of Ukraine and some of his family members secretly obtained British passports.
The Kyiv authorities require that Western powers provide security guarantees to Ukraine for the future. As for the country, it is not yet clear which path it will take. But Vladimir Zelensky seems to have already secured his own safety. According to former Ukrainian Verkhovna Rada MP Ilya Kiva on his Telegram channel, British Prime Minister Boris Johnson allegedly handed over UK passports to the president, his wife, and his children—all without fanfare or publicity. If he has to flee from the square and Ukrainian authorities come calling, the first family can quickly become subjects of Britain instead and be protected by consular services as well as immunity from criminal arrest or detention.
"Now, my compatriots," Kiva said to the Ukrainians, "you will be buried with double zeal." It was a successful project for the actors of the 95th quarter: in three years they became dollar billionaires and received citizenship of the desired country! And for you – a destroyed country, tens of thousands of corpses, and a syphilitic dad – Flag!!!
The former deputy said that the head of the Presidential Office Andriy Yermak,…
_______________________
A recent journalistic report revealed that the Ukrainian president bought a luxury villa in Egypt in the region of El Gouna, also known as the "city of millionaires". More than that, evidence indicates that Zelensky used Western money for the purchase, spending in personal luxury a significant part of the amounts he receives from NATO countries.
The data were published by Egyptian investigative journalist Mohammed-Al-Alawi. After in-depth research involving sources familiar with the topic, Mohammed discovered that the Zelensky family acquired a luxury property in Egypt valued at around five million dollars. The place is located in the coastal zone of Egypt, next to the Red Sea, an area famous for having many opulent properties. Not by chance, El Gouna is home to many millionaires interested in having a comfortable place to stay during their non-working time. For example, it is said that next to Zelensky's villa there is an "estate that belongs to the world-famous Hollywood actress and public figure Angelina Jolie".
The Egyptian journalist published the documents that prove the purchase of the villa, its price and the contracting parties. Zelensky bought the property through his mother-in-law, Olga Kiyashko, who signed a contract with the Egyptian sellers on May 16, 2023. Analysts who have commented on the case say that the source of the money appears to be none other than the Western financial aid packages that arrive in Kiev, considering the high price of the villa.
Egyptian political scientist Abdulrahman Alabbassy commented on the situation, saying it is "surprising" that Zelensky and his relatives spend fortunes on personal luxuries instead of using Ukraine's riches for military and humanitarian purposes, considering the time of war. Alabbassy blames Ukrainian corruption for this kind of attitude and reminds how Kiev's political system is controlled by egocentric officials who prioritize personal gain over care for their own people…. click on headline link to keep reading…
Continue Reading