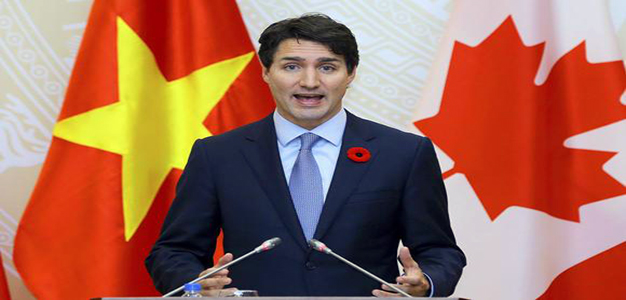 by John Daniel Davidson at The Federalist
The only way to understand the actions of Canadian Prime Minister Justin Trudeau over the past two weeks is that he wants the Freedom Convoy protests in Ottawa, which so far have been entirely peaceful, to descend into a violent confrontation between protesters and police.
Everything Trudeau has done, from his initial dismissive remarks about the protesters being a "small, fringe minority" with "unacceptable views," to his ongoing refusal to meet with them, to the unprecedented invocation of the Emergencies Act this week, has served to escalate the situation in Ottawa and increase the likelihood that it ends in some kind of violence.
Consider the draconian measures Trudeau's government is now pursuing. The protests, while certainly inconvenient and even onerous to the residents of Ottawa, are obviously not an existential threat to Canada. They are not even a national emergency according to the Emergencies Act's own definition: an "urgent and critical situation" that "seriously endangers the lives, health or safety of Canadians and is of such proportions or nature as to exceed the capacity or authority of a province to deal with it."
No reasonable person thinks that's what the protests in Ottawa are. The Canadian Civil Liberties Association has said the federal government has not met the threshold necessary to invoke the Emergencies Act, and that invoking it "threatens our democracy and our civil liberties." According to some recent polls, a not insignificant number of Canadians agree.
Yet Trudeau is bringing down the full force of the federal government to quash the Freedom Convoy. Under the Emergencies Act, protesters can have their bank accounts frozen, and so can people who simply donate to protesters. Crowdfunding platforms and payment service providers must cease all services to anyone they suspect might be participating in "illegal blockades," and report it to the Royal Canadian Mounted Police. Truckers can have their commercial and private drivers' licenses revoked, and can lose their insurance and their vehicles.
Even more ominously, Canadian government officials are now warning parents who bring their children to "illegal assemblies," or even provide food or fuel to protesters, that they could not only face jail time and steep fines, they could lose custody of their children. On Wednesday, the Children's Aid Society of Ottawa put out a statement urging parents at the demonstrations to make alternate care arrangements, "should they become unable to care for their children following potential police action."
The threat here is obvious: if you protest, we'll arrest you and take your children away. Trudeau has effectively weaponized Canada's version of child protective services to suppress legitimate political dissent. What do you think is going to happen when the police start trying to remove children from their parents? If it were your child, what would you do?
All of this could come to a head in the coming days. Police in Ottawa have begun…
Continue Reading