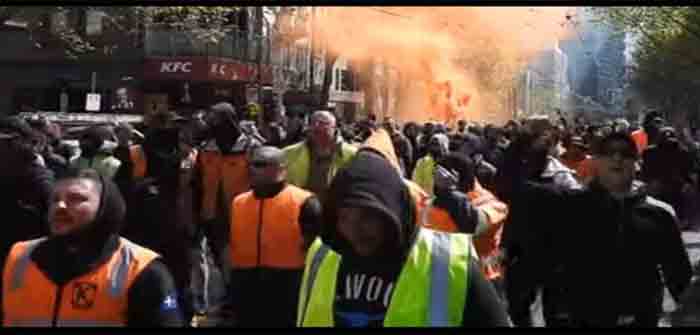 by Sundance at The Conservative Treehouse
An inflection point has been reached in Australia with the government COVID-19 lockdowns, forced vaccinations and now, vaccine passports. What is happening today in the state of Victoria, specifically the Melbourne metropolitan area, is an outcome of more than a year of heavy-handed government rules and regulations deaf to the voices of the average man, woman or family. There is a middle class & blue-collar backlash taking place, and Americans would be wise to pay attention.
Things recently came to a head when the Premier of Victoria, Daniel Andrews, began outlining the rules and regulations for opening society back up after almost a year of total lockdown. The always futile attempt to block the COVID-19 virus through a policy known as "COVID-ZERO" was abandoned. The new approach is to open up society and the economy by forcing everyone to take the vaccine, and then allowing only the vaccinated to participate in the economy as varying percentages of the population are double-vaxxed, and admittedly, later, booster-vaxxed.
Vaccination passports will be required to work, shop, attend events and essentially live in the New World Order Premier Andrews has created for the citizens of Victoria. The day after Andrews outlined the new rules – the working class, who have been locked down and compliant to this point, finally had enough…
Continue Reading