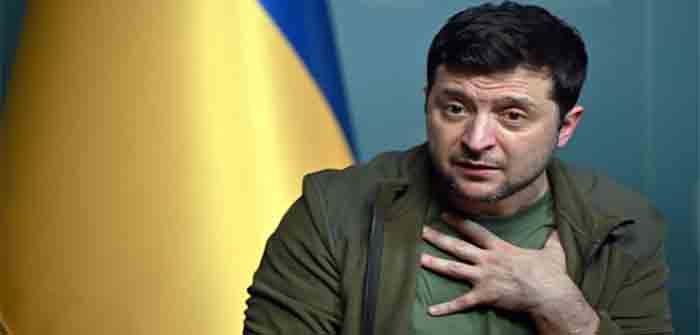 by Mike Whitney at The Unz Review
Volodymyr Zelensky is the current President of Ukraine. He was elected in a landslide victory in 2019 on the promise of easing tensions with Russia and resolving the crisis in the breakaway republics in east Ukraine. He has made no attempt to keep his word on either issue. Instead, he has greatly exacerbated Ukraine's internal crisis while relentlessly provoking Russia. Zelensky has had numerous opportunities to smooth things over​ with Moscow and prevent the outbreak of hostilities. Instead, he has consistently made matters worse by blindly following Washington's directives.
Zelensky has been lionized in the west and praised for his personal bravery. But—as a practical matter—he has failed to restore national unity or implement the crucial peace accord that is the only path to reconciliation. The Ukrainian president doesn't like the so-called Minsk Protocol and has refused to meet its basic requirements. As a result, the ethnically-charged, fratricidal war that has engulfed Ukraine for the last 8 years, continues to this day with no end in sight. President Vladimir Putin referred to Zelensky's obstinance in a recent speech delivered at the Kremlin. He said:
"At yesterday's event… the Ukrainian leadership publicly declared that they were not going to abide by these agreements. Not going to abide by them. Well, what else can you say about that?" (Vladimir Putin)
Most Americans fail to realize that Zelensky's rejection of Minsk was the straw that broke the camel's back. Russian officials had worked for 8 years on Minsk hammering out terms that would be agreeable to all parties. Then—at the eleventh hour—Zelensky put the kibosh on the deal with a wave of the hand. Why? Who told Zelensky to scrap the agreement? Washington?
Of course.
And why did Zelensky deploy 60,000 combat troops to the area just beyond the Line of Contact (in east Ukraine) where they could lob mortal shells into the towns and villages of the ethnic Russians who lived there? Clearly, the message this sent to the people was that an invasion was imminent and that they should either flee their homes immediately or take shelter in their cellars. What objective did Zelensky hope to achieve by forcing these people to huddle in their homes in fear for their lives? And what message did he intend to send to Moscow whose leaders looked on at these developments in absolute horror?
Did he know his actions would set off alarms in Russia forcing Putin to call up his military and prepare them for a possible invasion to protect his people from– what looked to be– a massive ethnic cleansing operation?
He did.
So, how are these actions consistent with Zelensky's campaign promises to restore national unity and peacefully resolve Ukraine's issues with Russia?
They're not consistent at all, they are polar opposites. In fact, Zelenskyy appears to be operating off a different script altogether. Take, for example, his complete unwillingness to address Russia's minimal security concerns. Did Zelensky know that Putin had repeatedly said that Ukraine's membership in NATO was a "red line" for Russia? Did he know that Putin has been saying the same thing over-and-over again since 2014? Did he know that Putin warned that if Ukraine took steps to join NATO, Russia would be forced to take "military-technical" measures to ensure their own security? Does Zelensky know that NATO is Washington-controlled Alliance that has engaged in numerous acts of aggression against other sovereign states. Here's a short list of NATO's accomplishments:…
Continue Reading