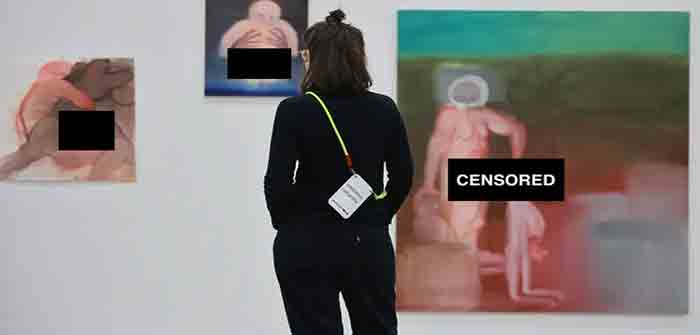 by Jack Montgomery at The National Pulse
France's President Emmanuel Macron has defended artwork which appears to depict a child being orally raped by an adult after protestors threw paint on it.
The graphic painting titled fuck abstraction! depicts an entirely nude, muscular adult forcing what appears to be a naked, slightly built male child kneeling with his hands bound behind his back to fellate him.
Someone who objected to its pedophilic content splashed it with purple paint at the Palais de Tokyo modern art museum in Paris, prompting France's increasingly unpopular globalist president to leap to its defense.
"Targeting a work of art is an attack on our values," Macron complained.
"In France, art is always free and respect for artistic creation is guaranteed," he added.
Hypocrisy. 
Miriam Cahn, a Swiss artist in her seventies, has claimed that the work, supposedly a tribute of sorts to victims of alleged war crimes in Bucha, Ukraine, does not depict a man and a child. She claims the victim's childlike size and physique is intended to represent "the corporeal power of the oppressor, and the fragility of the oppressed" — but many are unconvinced.
Indeed, the Association Juristes Pour l'Enfance (Lawyers for Childhood) appealed to the courts and the State Council to have the painting removed under child protections laws, but were unsuccessful.
Lawyers for the Palais de Tokyo hailed judges' refusal to intervene,…
Continue Reading