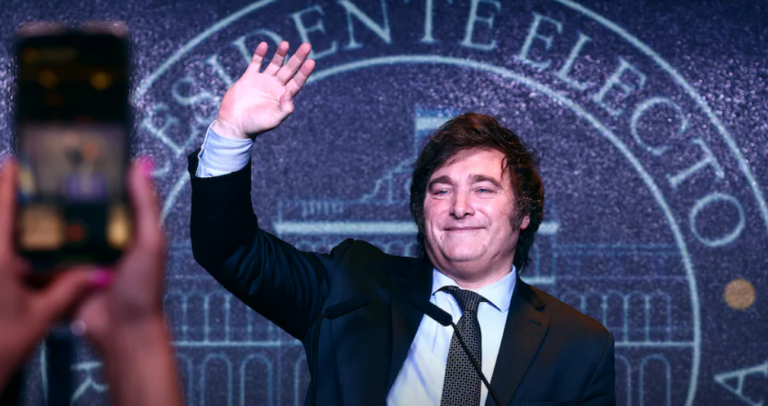 by Sundance at The Conservative Treehouse
In an era of universal deceit there comes a time when extraordinary actions become necessary.  For those who are deep within the fight, understanding becomes ordinary and few words are needed.  We know, we fight, we remain steadfast….
The unabashed, resolute and indefatigable Argentinian Trump, Javier Milei, has won a historic election as the choice of the pragmatic working class who have tried all methods of addressing their grievances only to have their voices dismissed.
BUENOS AIRES — A radical libertarian and admirer of Donald Trump rode a wave of voter rage to win Argentina's presidency on Sunday, crushing the political establishment and bringing the sharpest turn to the right in four decades of democracy in the country.

Javier Milei, a 53-year-old far-right economist and former television pundit with no governing experience, claimed nearly 56 percent of the vote in a stunning upset over Sergio Massa, the center-left economy minister who has struggled to resolve the country's worst economic crisis in two decades. Even before the official results had been announced Sunday night, Massa acknowledged defeat and congratulated Milei on his win.

Trump also congratulated Milei. "I am very proud of you," Trump wrote on his Truth Social platform. "You will turn your Country around and Make Argentina Great Again!"

Voters in this nation of 46 million demanded a drastic change from a government that has sent the peso tumbling, inflation skyrocketing and more than 40 percent of the population into poverty. With Milei, Argentina takes a leap into the unknown — with a leader promising to shatter the entire system.

In his first speech as president-elect, Milei told Argentines that "the model of decadence has reached its end. There is no turning back."

"Enough of the impoverishing power of the caste," he said. "Today we once again embrace the model of liberty, to once again become a world power." His supporters joined him in shouting: "Long live freedom, damn it!"

Milei will take office on Dec. 10, the 40th anniversary of Argentina's return to democracy after the fall of its military dictatorship. (read more)
Freedom is a word often thrown around by those inside the political sphere as they seek to retain the illusion of choice by controlling the population.  However, freedom in its truest sense is a battle cry of those who are ignored by the same control agents of government.
As the Washington Post, aka the U.S. intelligence apparatus,…
Continue Reading