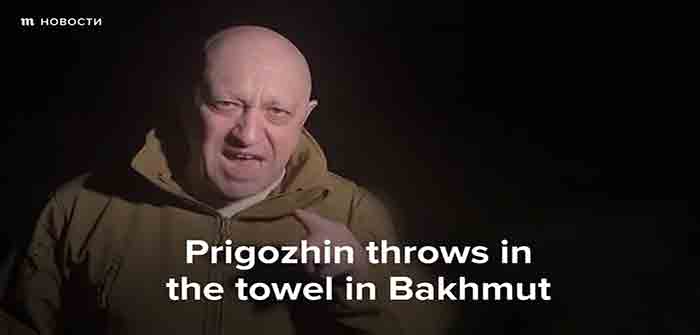 Editor's note: There is a video at the top of this post we are unable to embed.
by Southfront News Staff at Southfront
On May 5, head of the Wagner PMC Evgeny Prigozhin declared that Wagner fighters will leave the city of Bakhmut on May 10 and will hand over control of their positions to the units of the Russian Ministry of Defence.
The reason of Prigozhin's decision is the shell hunger which was artificially created by Russian military commanders responsible for the supply of ammunition to the front lines.
"On May 10, 2023, we are forced to hand over positions in the village of Bakhmut to the units of the Ministry of Defense and withdraw the remnants of the Wagner PMC to the rear camps to lick wounds. I am withdrawing the units of the Wagner PMCs from Bakhmut, because due to the absence of ammunition they are doomed to senseless death," the appeal says.
The video appeal was accompanied by the following message from Yevgeny Prigozhin and the Command and fighters of the Wagner PMC to the Chief of the General Staff, the Minister of Defense, the Supreme Commander-in-Chief and the people of Russia:
On March 16, 2022, we were asked to immediately stand up to defend our homeland.
On March 19, 2022, all units arrived from various directions from Africa and joined the first battle.
We chose the direction of our offensive ourselves — the most prepared stronghold of the Armed Forces of Ukraine.
On May 9, 2022, we took control of the town of Popasnaya, which was the first significant victory in the Donbass.
After a series of failures of the Russian Defense Ministry on various front lines, on October 8, 2022, it was decided together with Army General Surovikin to launch Operation Bakhmut Meat Grinder
The operation Bakhmut Meat Grinder was highly effective, distracted a huge number of enemy forces and enabled the Russian army to occupy advantageous defensive lines and continue the offensive…
_______________________
The Duran Ways In
WATCH:
Continue Reading