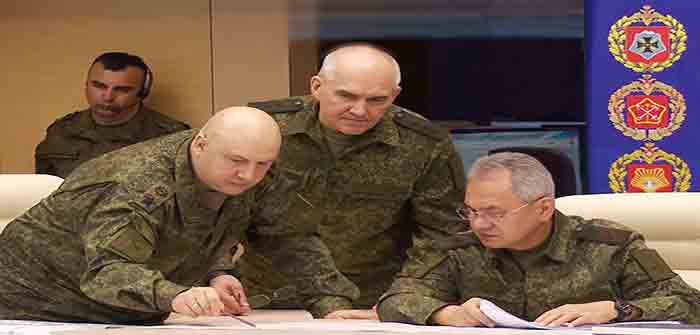 by Southfront News Staff at Southfront News
The first big city which recently became the capital of a new region of Russia will be abandoned by Russian forces. On November 9, the Russian military announced the withdrawal from Kherson.
Commander of the Russian military operation in Ukraine, Russian General Surovikin, reported to Defence Minister Shoigu a plan to withdraw Russian troops to new defensive lines along the Dnieper River. The Russian Defence Minister approved it. The transfer of Russian forces from the right bank of the river will be carried out in the near future.
The main statements declared by General Sergei Surovikin included:

The situation in the area of the special operation is generally stabilized, the combat capabilities of the joint forces have increased significantly, the combat strength has been increased at the expense of the mobilized servicemen, reserves have been created.

Russian troops have resumed offensive operations in certain areas. All attempts of offensive actions of the Armed Forces of Ukraine in the Kupyansk and Krasnolimansk directions have been stopped.

There are street battles on the eastern outskirts of Artemovsk (Bakhmut). The Armed Forces of the Russian Federation have resumed offensive operations, the enemy was defeated on the right bank of the Bakhmutka River in the Donetsk direction.

From August to October, the AFU lost more than 9.5 thousand people killed and wounded in the Kherson direction. In October, the Ukrainian army lost over 12,000 soldiers. The losses of the Armed Forces of the Russian Federation are 7-8 times less than those of the enemy.

Due to constant shelling, Kherson and adjacent settlements cannot be supplied and function, people's lives are constantly in danger. The most appropriate option is to organize defense along the barrier line of the Dnieper River. The decision to take defensive positions on the left bank of the Dnieper River is not easy, at the same time, we will save the lives of our military and the combat capability of the units.

The maneuver will be carried out in the near future.

Shoigu agreed with these conclusions and suggestions. He ordered to withdraw troops from Kherson.
The withdrawal of Russian troops in the Kherson region is already the 3rd Russia's major military defeat in Ukraine after the loss of the towns of Balakleya and Krasny Liman.
One of the reasons for the surrender was the inability of Russian forces to provide supplies and secure the logistics on the right bank of the Dnieper river. It means that Ukrainian forces managed to disable or seriously disrupt Russian communication lines through the water barrier. Russian troops had to defend a large area on the prolonged front lines. They continuously repelled Ukrainian attacks but the risk of being surrounded remained high.
The withdrawal to the left bank to the new lines of defence seems to be a difficult…
Continue Reading