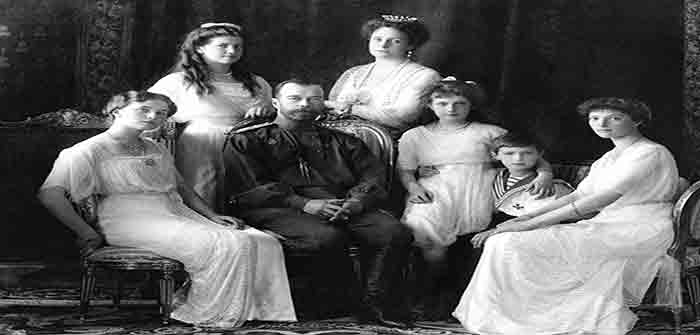 The Romanov family ruled Imperial Russia before Vladimir Lenin's Bolshevik revolution in 1917. Lenin and his communist colleagues wasted no time in selling off priceless Tsarist jewels and, amid the chaos of civil war, numerous masterpieces were lost to history. The fate of the missing Romanov jewels remains one of the world's greatest mysteries – but a huge breakthrough came with the release of previously classified KGB files. Many of the lost treasures went missing in Siberia, with precious gold and silver dating to the brief period of Siberian independence after Lenin's power grab – all of which had been in the hands of White forces seeking to roll back Red advances.
Tsar Nicholas II's personal jewellery and valuables, along with items owned by Empress Alexandra, were among the treasure trove.
KGB files show that Soviet authorities repeatedly hunted for the treasures after the Tsar and his family were murdered in Yekaterinburg in July 1918.
Many items were discovered but the vast majority remain missing, even after a Nazi-backed attempt to retrieve them during World War 2.
Incredibly, KGB files indicate that 26 boxes of Tsarist gold were stashed underground roughly three miles away from Tayga railway station on the Trans-Siberian railway.
Tsar Nicholas II was murdered alongside his family in 1918 (Image: GETTY)
Vladimir Lenin oversaw the Bolshevik revolution (Image: GETTY)
Despite a major Soviet operation, sanctioned by Joseph Stalin in the early Forties, this gold was never found.
This collection alone is estimated to be worth at least £50billion today.
Colonel Alexander Petrushin of the FSB – the post-Soviet successor to the KGB – detailed other stashes of riches linked to the Romanov family after his retirement in 2017.
Colonel Petrushin's research centres on treasures lost while the Tsar and his family lived in exile, between August 1917 and April 1918, in the Siberian town of Tobolsk.
It appears the Romanovs anticipated their fate as they left their riches with trusted locals before being taken west to Yekaterinburg, where they were ultimately shot.
One collection was retrieved by Stalin's men in 1933 but at least two others have never been found.
Experts believe they could still be in Tobolsk or further south in Omsk…
Continue Reading