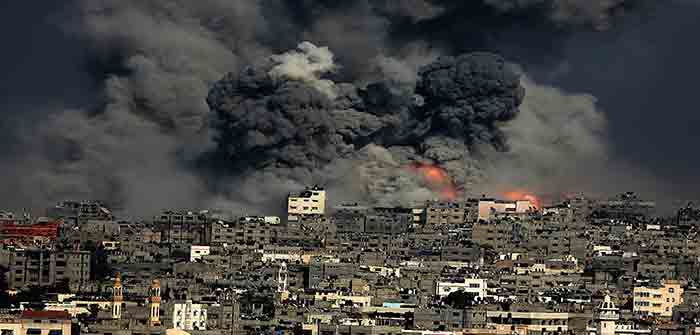 by Middle East Monitor News Staff at Middle East Monitor
New first-hand accounts from witnesses of Israel's clashes with Hamas militants on 7 October suggest that, in their desperation to contain the surprise incursion, Israeli troops indiscriminately fired on their own citizens with heavy weaponry, resulting in potentially scores of Israeli deaths from so-called "friendly fire".
Testimonies of eye witnesses and Israeli sources compiled by The Grayzone, contradicts the Israeli account of the events that unfolded on 7 October. The Occupation State has refused to reveal full details of the atrocities it claims to have been carried out by Hamas and, thus far, has only released selective information about the attack.
Unverified claims circulated by Israel that Hamas militants beheaded 40 babies on 7 October were widely rejected as propaganda which, critics argue, was designed to garner sympathy for Israel to carry out collective punishment of Gaza's 2.2 million. However, a closer examination of events by The Grayzone tells a different story: one in which the Israeli military itself bears responsibility for numerous civilian deaths. The emerging details not only contradict the Israeli government's version of events, but indicate that, in the chaos of battle, reckless Israeli fire likely led to significant casualties among the Israeli population.
According to Tuval Escapa, the security coordinator at Kibbutz Be'eri who set up a hotline between residents and the army,
Israeli commanders made "difficult decisions" including "shelling houses on their occupants in order to eliminate the terrorists along with the hostages
This was confirmed by Israeli civilian, Yasmin Porat, who survived a hostage standoff in Be'eri. She stated that, during intense clashes, Israeli Special Forces "undoubtedly" killed all remaining hostages, along with two surrendering Hamas militants using tank shells and frenzied gunfire.
Porat recalled how Hamas militants had treated hostages "very humanely", aiming only to take them back to Gaza,…
__________________
Editor's note: The T-Room broke the below story by Max Blumenthal on October 27 and we posted it on October 30th. These reports are so important because they are based on FACTS not propaganda being spewed by anyone. We're re-linking you to it so you are fully armed with the facts just in case you missed it the first time.
by Max Blumenthal at The GRAYZONE
Israel's military received orders to shell Israeli homes and even their own bases as they were overwhelmed by Hamas militants on October 7. How many Israeli citizens said to have been "burned alive" were actually killed by friendly fire?
Several new testimonies by Israeli witnesses to the October 7 Hamas surprise attack on southern Israel adds to growing evidence that the Israeli military killed its own citizens as they fought to neutralize Palestinian gunmen.
Tuval Escapa, a member of the security team for Kibbutz Be'eri, set up a hotline to coordinate between kibbutz residents and the Israeli army. He told the Israeli newspaper Haaretz that as desperation began to set in, "the commanders in the field made difficult decisions – including shelling houses on their occupants in order to eliminate the terrorists along with the hostages."
A separate report published in Haaretz noted that the Israeli military was "compelled to request an aerial strike" against its own facility inside the Erez Crossing to Gaza "in order to repulse the terrorists" who had seized control. That base was filled with Israeli Civil Administration officers and soldiers at the time.
These reports indicate that orders came down from the military's high command to attack homes and and other areas inside Israel, even at the cost of many Israeli lives.
An Israeli woman named Yasmin Porat confirmed in an interview…
Continue Reading