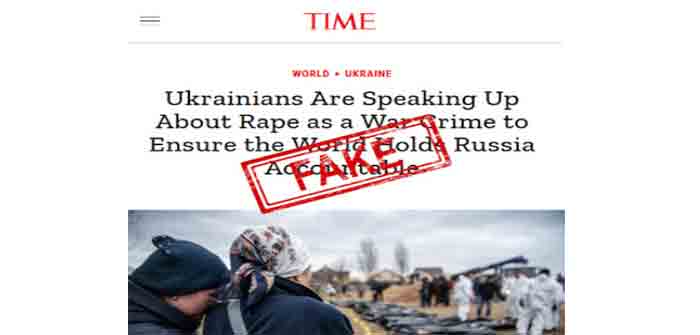 by Bernhard at Moon of Alabama
There is a first and still very low noise signal that the Zelenski regime in Kiev is coming apart.
Six weeks ago there were suddenly many claims that Russian soldiers in Ukraine had raped people.
Time headlined:
Ukrainians Who Have Been Raped by Russian Troops Are Refusing to Stay Silent
Ukraine's human rights ombudsman, Lyudmyla Denisova said that 25 teenage girls were kept in a basement in Bucha and gang-raped; nine of them are now pregnant. Elderly women spoke on camera about being raped by Russian soldiers. The bodies of children were found naked with their hands tied behind their backs, their genitals mutilated. Those victims included both girls and boys, and Ukrainian men and boys have been sexually assaulted in other incidents. A group of Ukrainian women POWs had their heads shaved in Russian captivity, where they were also stripped naked and forced to squat.
Eager anti-Russian activists were spreading those dubious claims:
Julia Ioffe @juliaioffe – 23:21 UTC · Apr 20, 2022
"25 teenage girls were gang-raped; 9 are now pregnant. Elderly women spoke about being raped by Russian soldiers. The bodies of children were found naked with their hands tied behind their backs, their genitals mutilated." A harrowing read, by @Amie_FR. Link to Time report
Quoting Julia Joffe's tweet I immediately dismissed those claims:
Moon of Alabama @MoonofA – 8:44 UTC · Apr 21, 2022
Such accusations of mass rape by the enemy de jour are made in every war (Libya, Syria) . They rarely turn out to be true.
https://en.wikipedia.org/wiki/2011_Libyan_rape_allegations
It turns out that my hunch was right:
Christopher Miller @ChristopherJM – 15:17 UTC · May 31, 2022
Ukraine's parliament just fired human rights ombudsman Lyudmila Denisova. MPs claimed her work focusing on the rape of Ukrainians by Russian troops which "couldn't be confirmed with evidence […] only harmed Ukraine and distracted the global media from Ukraine's real needs."238 MPs voted her out. Other complaints were that Denisova had failed to organize humanitarian corridors and POW exchanges, and that she had spent time in "warm Western Europe" during the invasion "but not in Russia or Belarus, where her status and powers could help prisoners."
Lyudmila Denisova had made 
lots of sensational claims
about Russian soldiers:…
Continue Reading