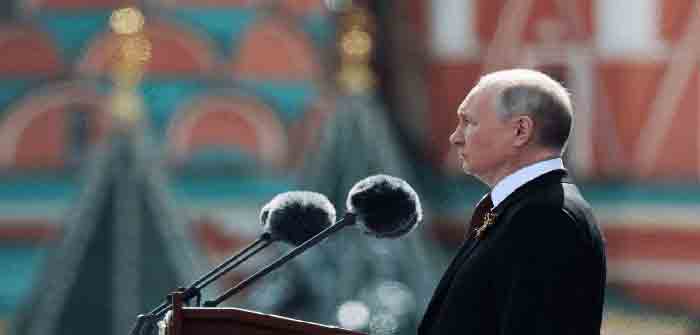 by Connor Freeman at Libertarian Institute
President Vladimir Putin declared that all of Russia is united in support of its troops, claiming they face a "real war" intended to "destroy" their country during his annual Victory Day speech in Moscow's Red Square on Tuesday.
Celebrated on May 9 in Russia, Victory Day is the country's yearly commemoration to honor the Soviet troops who defeated the forces of Nazi Germany during World War II. The ceremonies and military parade were notably pared back relative to previous years, however, as Russia's war in Ukraine grinds into its fifteenth month.
"Today, our civilization is at a crucial turning point. A real war is being waged against our country again but we have countered international terrorism and will defend the people of Donbass and safeguard our security," Putin said.
The Russian leader declaimed that Moscow seeks peace and stability, while railing against American exceptionalism and the "Western globalist elites." He said these forces pit countries against one another with coup plots and proxy conflicts, such as the 2014 US-backed coup in Kiev and Ukraine's subsequent war on Russian-speaking separatists in the eastern Donbass region. These actions preceded Putin's invasion, and the president has repeatedly cited the need to "defend the people" of the Donbass as a justification for his "special military operation."
"For us, for Russia, there are no unfriendly or hostile nations either in the west or in the east. Just like the vast majority of people on the planet, we want to see a peaceful, free and stable future," Putin claimed.
"[Russians] believe that any ideology of superiority is abhorrent, criminal and deadly by its nature. However, the Western globalist elites keep speaking about their exceptionalism, pit nations against each other and split societies, provoke bloody conflicts and coups, sow hatred, Russophobia, aggressive nationalism, destroy family and traditional values which make us human," he continued. "They do all that so as to keep dictating and imposing their will, their rights and rules on peoples, which in reality is a system of plundering, violence and suppression."
The Russian leader went on to claim that the war in Ukraine is a defensive action against…
Continue Reading