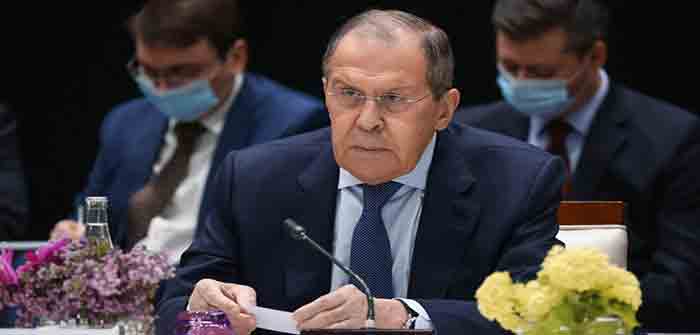 by Bernhard at Moon of Alabama
Russia's Foreign Minister Sergey Lavrov is in a spat with Israel over its support for Nazis militia in the Ukraine.
The immediate cause is a passage in an interview Lavrov had with the Italian TV network Mediaset:
Question: This is how you see it, while Vladimir Zelensky puts it differently. He believes denazification doesn't make any sense. He is a Jew. The Nazis, Azov – there are very few of them (several thousand). Vladimir Zelensky refutes your view of the situation. Do you believe Vladimir Zelensky is an obstacle to peace?Sergey Lavrov: It makes no difference to me what President Vladimir Zelensky refutes or does not refute. He is as fickle as the wind, as they say. He can change his position several times a day.

I heard him say that they would not even discuss demilitarisation and denazification during peace talks. First, they are torpedoing the talks just as they did the Minsk agreements for eight years. Second, there is nazification there: the captured militants as well as members of the Azov and Aidar battalions and other units wear swastikas or symbols of Nazi Waffen-SS battalions on their clothes or have them tattooed on their bodies; they openly read and promote Mein Kampf. His argument is: How can there be Nazism in Ukraine if he is a Jew? I may be mistaken but Adolf Hitler had Jewish blood, too. This means absolutely nothing. The wise Jewish people say that the most ardent anti-Semites are usually Jews. "Every family has its black sheep," as we say.
The Zionist entity in Palestine reacted with harsh words:
The Israeli prime minister, Naftali Bennett, condemned on Monday a recent claim by the Russian foreign minister, Sergey V. Lavrov, that Jews were "the biggest antisemites."The Israeli Foreign Ministry also summoned the Russian ambassador to Israel to explain Mr. Lavrov's remarks, while the Israeli foreign minister, Yair Lapid, demanded an apology.
…
Mr. Bennett said that he viewed Mr. Lavrov's remarks with the "utmost severity," saying that the comments were "untrue and their intentions are wrong."

Mr. Bennett added, "The goal of such lies is to accuse the Jews themselves of the most awful crimes in history, which were perpetrated against them, and thereby absolve Israel's enemies of responsibility."

Separately, Mr. Lapid said that Mr. Lavrov's comments were "both an unforgivable and outrageous statement as well as a terrible historical error."

"Jews did not murder themselves in the Holocaust," he added. "The lowest level of racism against Jews is to accuse Jews themselves of antisemitism."
Mr. Lapid has a big mouth that hides the whitewashing of Jewish Nazi collaborators in which his own family was involved.
But first let us tackle the question of Adolf Hitler's ancestry. The History channel has a piece on it:
In the decades since Adolf Hitler's death, the Nazi leader's ancestry has been a subject of rampant speculation and intense controversy. Some have suggested that his father, Alois, born to an unwed woman named Maria Schickelgruber, was the illegitimate child of Leopold Frankenberger, a young Jewish man whose family employed her as a maid. (She subsequently married Johann Georg Hiedler–later spelled "Hitler"–whose surname her son adopted.)
In 2019 the Jerusalem Post reported of new research on the issue:
[A] study by psychologist and physician Leonard Sax has shed new light supporting the claim that Hitler's father's father had Jewish roots.The study, titled "Aus den Gemeinden von Burgenland: Revisiting the question of Adolf Hitler's paternal grandfather," which was published in the current issue of the Journal of European Studies, examines claims by Hitler's lawyer Hans Frank, who allegedly discovered the truth.

Hitler asked Frank to look into the claim in 1930, after his nephew William Patrick Hitler threatened to expose that the leader's grandfather was Jewish.

In his 1946 memoir, which was published seven years after he was executed during the Nuremberg trials, "Frank claimed to have uncovered evidence in 1930 that Hitler's paternal grandfather was a Jewish man living in Graz, Austria, in the household where Hitler's grandmother was employed," and it was in 1836 that Hitler's grandmother Maria Anna Schicklgruber became pregnant, Sax explained.
…
Sax writes in the study that according to the letters in Frank's memoir, "Frankenberger Sr. sent money for the support of the child from infancy until its 14th birthday."

"The motivation for the payment, according to Frank, was not charity but primarily a concern about the authorities becoming involved: 'The Jew paid without a court order, because he was concerned about the result of a court hearing and the connected publicity,'" the letters state.
It seems to me that Lavrov has that one right. It really seems that Adolf Hitler had some Jewish ancestors who even paid for the upbringing of his father.
Now onto the other issue, Lavrov's claim that:
.. the most ardent anti-Semites are usually Jews. "Every family has its black sheep," as we say.
Yair Lapid does not agree with that. Well, his father didn't either until, to his embarrassment, some new facts proved him wrong. There is for example the well known case of Rudolf Kasztner in which Lapid's father was involved.
As the Times of Israel reported in 2016:…
Continue Reading