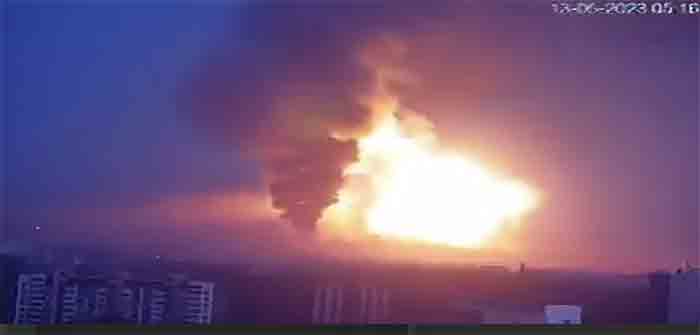 by Simplicus The Thinker at Simplicus The Thinker Substack
The title may sound like clickbait, but read below and you'll find that it's frighteningly not so.
But first, today's video mashup includes Josep Borrell, once again intimating that the Ukraine war would end in mere days were the West to stop funding Zelensky's regime. This very frank admission should give everyone an idea of how fragile Ukraine's position is, and how desperately they hang on by a thread.
The second series of videos demonstrates Russia's massive strike, called by some the largest of the entire war thus far, on Ukraine's Khmelnitsky ammot depot. This is merely to illustrate the next point I wish to make, which is that there is a lot of 'recency bias' that goes into yesterday's attacks on the Russian air fleet. Suddenly there is doom and gloom, and the typical, expected 'concern troll' swarm, etc. But many people quickly forget how vast the damage is which Russia is inflicting on Ukraine on a daily basis. The cost estimate of the above Khmelnitsky strike alone was said to be over $500 million, according to DPR's Basurin and other sources.
Rybar:
They have shaken the earth's firmament.

Yesterday's massive strike on the Khmelnytskyi warehouses is shaking the ground.

Our sources say that the 649th aviation depot of missile weapons and ammunition in the village of Hrushevitsya stored a significant number of anti-aircraft missiles for Western-made SAMs – including those for Patriot SAMs.

According to the earthquake monitoring system of the Euro-Mediterranean Seismological Centre, tremors of 3.4 magnitude were felt northwest of Khmelnytskyy at 04.52 Moscow time.

This fact indicates that the impact on the depots was very effective – the secondary detonation of the weapons caused seismological activity in the earth's crust.

Yes, not all the stockpiles were in Grushevitsa. The Ukrainian command has been storing weapons in various depots across the country since last spring. But with periodic Russian UAV and missile raids, the loss of even a batch of anti-aircraft missiles would affect Ukraine's air defence capabilities.
Ayden here, summarizes the view:…
Continue Reading