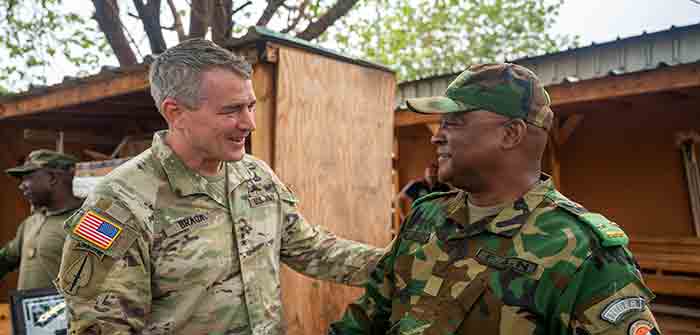 by Nick Turse at The Intercept
brig. gen. Moussa salaou barmou, the chief of Niger's Special Operations Forces and one of the leaders of the unfolding coup in Niger, was trained by the U.S. military, The Intercept has confirmed. U.S.-trained military officers have taken part in 11 coups in West Africa since 2008.
"We have had a very long relationship with the United States," Barmou said in 2021. "Being able to work together in this capacity is very good for Niger." Just last month, Barmou met with Lt. Gen. Jonathan Braga, the head of U.S. Army Special Operations Command, at Air Base 201, a drone base in the Nigerien city of Agadez that serves as the lynchpin of an archipelago of U.S. outposts in West Africa.
On Wednesday, Barmou, who trained at Fort Benning, Georgia, and the National Defense University in Washington, joined a junta that ousted Mohamed Bazoum, Niger's democratically elected president, according to Nigerien sources and a U.S. government official who spoke on the condition of anonymity.
Barmou did not return phone calls and text messages from The Intercept.
A U.S. official tracking the coup, who spoke on the condition of anonymity, confirmed Barmou's relationship with the U.S. military and said he was probably not alone. "I'm sure we will find out that others have been partners, have been involved in U.S. engagements," he said of other members of the junta, noting that U.S. government agencies were looking into the matter.
U.S.-trained officers have conducted in at least six coups in…
Continue Reading