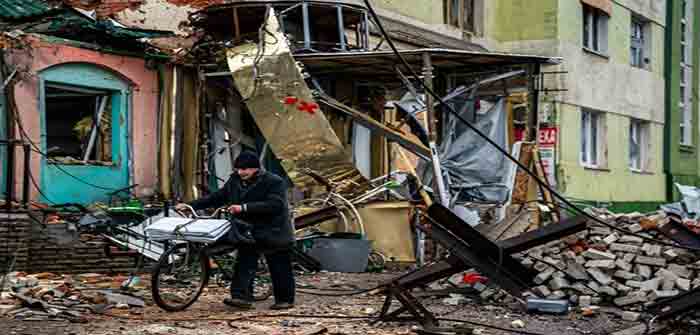 by Bernhard at Moon of Alabama
Last week I explained why Bakhmut is falling. The piece included long excerpts from a piece published by Kyiv Independent. The reporter had talked with soldiers who had been at the Bakhmut front. Their description of the situation there was devastating.
Now a different reporter for Kyiv Independent has a somewhat similar report:
Battle of Bakhmut: Ukrainian soldiers worry Russians begin to 'taste victory'
You should read that report as I will not fully cover it. But want to quote some passages as they nicely confirm my other recent piece about the real casualty rates of Ukrainian soldiers in Bakhmut.
Pulling away the propaganda and general sentiment stuff there is this:
Just days before heading back to fight in the Battle of Bakhmut, a Ukrainian soldier Volodymyr, 54, said he felt ill-prepared."When they drive us to Bakhmut, I already know I'm being sent to death," Volodymyr told the Kyiv Independent during his brief stay in Kramatorsk, a city in Donetsk Oblast some 25 kilometers west of the front line.
…
"(The Russians) keep firing at us, but we don't have artillery – so we have nothing to attack them back with," Volodymyr said. "I don't know if I will return or not. We are just getting killed."

Ukrainian infantrymen interviewed by the Kyiv Independent described the fighting in Bakhmut as a desperate survival challenge against Russia's "infinite" stocks of artillery munitions and manpower. With just their machine guns and rifles, they say they braced relentless Russian mortar and artillery attacks until their hideout was eventually destroyed.
…
Valeriy, a Ukrainian infantryman, says that most of his fallen comrades were fatally wounded by projectile fragments.

"It's a pity that probably 90% of our losses are from artillery – or tanks and aviation," Valeriy told the Kyiv Independent a few hours after leaving the Bakhmut front. "And much less (casualties) from shooting battles."

Valeriy counted that "only a few" of the original 27 members of his platoon got out of the Bakhmut front with him, though he explained that most of them were wounded, not killed.

"The Russians have so many weapons, and there are so many of them," Valeriy said. "They are firing at us all the time. Sometimes, you hear an incoming every second."
Artillery is, as expected, the big killer in Bakhmut. While there are also many wounded…
Continue Reading