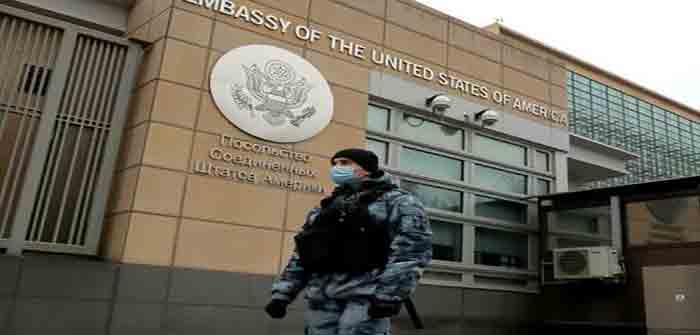 by Tyler Durden at ZeroHedge
The US Embassy in Moscow issued an unusual "terrorism alert" to American nationals residing in the country on Sunday. It warned all US citizens of possible "attacks in shopping malls, metro, and railway stations" – and on that basis urged Americans to begin prepping plans to leave Russia.
However it didn't invoke intelligence or official assessments, instead: "According to media sources, there have been threats of attacks against shopping centers, railway, and metro stations, and other public gathering places in major urban areas, including Moscow and St. Petersburg as well as in areas of heightened tension along the Russian border with Ukraine," according to the alert.
The FSB (Federal Security Service) responded to the notification on Monday by underscoring that Washington had not shared any information of threats, which would be the norm in such a scenario, given the FSB has open lines of communication when it comes to counter-terrorism with the FBI and CIA.
The US embassy message had gone so far as to tell US nationals to "have evacuation plans that do not rely on U.S. government assistance." Weeks ago the US Embassy in Kiev told Americans to depart the neighboring country to Russia amid fears of a 'Russian invasion' – which has yet to materialize.
Subsequent Kremlin statements slammed the US embassy move as being "out of touch with reality" – according to Russian state sources:…
Continue Reading