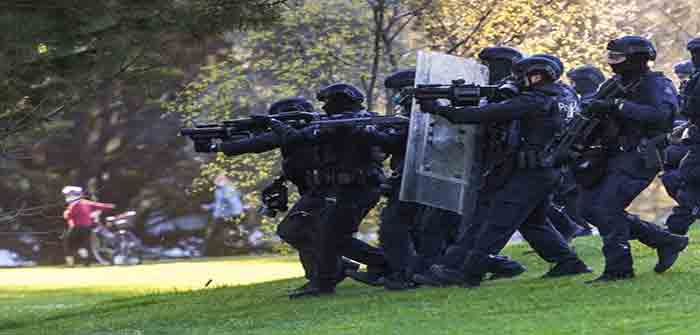 by Sundance at The Conservative Treehouse
On day three of the Melbourne labor union protests against the brutal COVID lock-downs and forced mRNA genetic experiments, the Victorian government decided to open fire upon the peaceful protestors. The police triggered a 'no-fly zone' in the Melbourne metropolitan area to stop media from using their helicopters to record the protests and violent police activity.
While the official motive given by police for the media ban was to block protestors from knowing where the thousands of police were amassing; the background issue of the government wanting to keep the Australian people from seeing police open fire upon their own citizens is transparently obvious.  Americans would be wise to pay attention to all facets of how the Australian government is moving violently against their own citizens.  [PIC: Partial Protest Crowd at Melbourne Shrine of Remembrance]
The riot units were essentially shooting trapped fish in a barrel, while secondary units moved in from the perimeter to arrest those targeted.  It is ironic this video was filmed at Victoria's national memorial honoring the service and sacrifice of Australians in war and peacekeeping.
VIDEO:…
Continue Reading