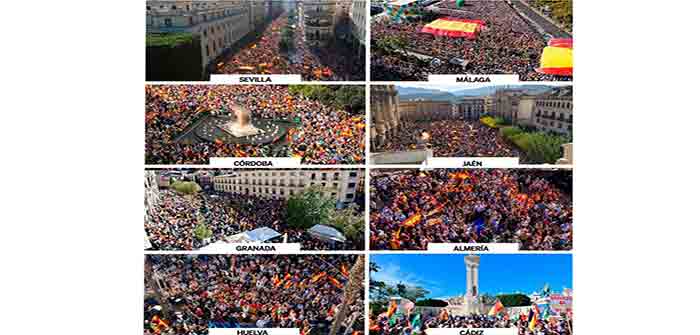 by Libby Emmons at Human Events.
Only days after the co-founder of Spain's conservative Vox party was shot in the face by a would-be assassin, Spain has been rocked by protests in some 42 towns and cities as tens of thousands of Spaniards take to the streets.
They are angered by what they see as betrayal by socialist Prime Minister Pedro Sanchez, who promised amnesty to violent Catalan separatists in exchange for their support of his rule.
On Thursday, Sanchez gained the deal with the separatist party Junts. The key component of that deal for the separatists was amnesty for those who launched the effort to secede from Spain in 2017. Protesters said that this evidenced Sanchez putting his ambition for power ahead of the good of the nation, per Reuters.
The patriot crowds in Spain today are absolutely insane pic.twitter.com/vu84Pky8MV

— Jack Poso 🇺🇸 (@JackPosobiec) November 12, 2023
Santiago Abascal, leader of the nationalist Vox party,…
____________________
Human Events. with Jack Posobeic interviews Rocio de Meer, Congress of Deputies, of Spain's Vox Party. The interview starts at 5:00 minutes in but the lead provides a great run down of top stories breaking today.
WATCH:
Continue Reading