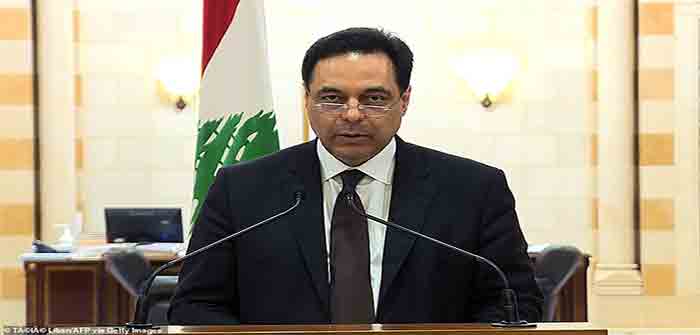 Lebanon's president and prime minister were warned last month that a stash of ammonium nitrate at the port of Beirut could destroy the city if it exploded, it has emerged.
Security officials wrote a letter on July 20 saying the industrial chemicals which had been idling in a warehouse since 2013 needed to be secured immediately.
Just over two weeks later, the stockpile went up in a massive blast that obliterated most of the port and swathes of the capital, killed at least 163 people, injured 6,000 and has sparked mass protests against Lebanon's elite.
Prime minister Hassan Diab announced his resignation yesterday and blamed the blast on the incompetence of the elite, declaring that an 'apparatus of corruption bigger than the state' was blocking the path to reform.
However, the documents seen by Reuters show that both Diab and President Michel Aoun had been warned in a private letter that 'this could destroy Beirut if it exploded'.
Diab's camp claimed he had forwarded the letter to the Supreme Defence Council within 48 hours, pointing the finger at 'previous administrations [who] had over six years and did nothing'.
Details of the private letter emerged in a report by the General Directorate of State Security on events leading up to the explosion.
While the content of the letter was not in the report, a senior security official said…
Continue Reading