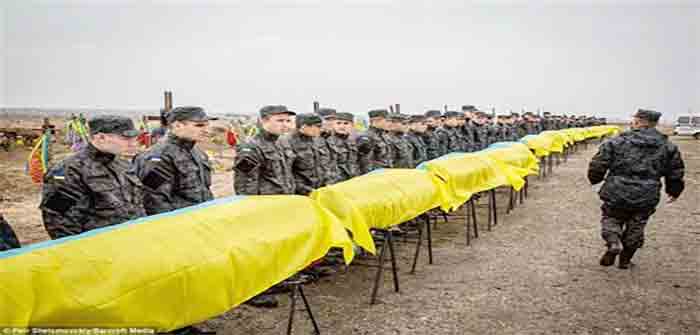 by Larry Johnson at A Son of the New American Revolution
We now know that the United States played the primary role in sabotaging the March 29, 2022 tentative peace agreement between Russia and Ukraine thanks to the recently published article by Hajo Funke and Harald Kujat, HOW THE CHANCE WAS LOST FOR A PEACE SETTLEMENT OF THE UKRAINE WAR — AND THE WEST WANTED TO CONTINUE THE WAR INSTEAD. The United States persuaded its NATO allies that pursuing the war against Russia, using Ukraine as a proxy, offered a legitimate opportunity to destroy Russia. You want a definition of evil? This is it. Instead of helping end the war between Russia and Ukraine, the United States and its NATO puppets condemned hundreds of thousands of Ukrainian soldiers to death in a war with Russia they could not win.
In the course of strong arming Ukraine's Zelensky into rejecting the peace agreement, the West prepared and launched a propaganda campaign that claimed that Ukrainian military forces defeated the Russian forces and compelled them to retreat. It was a lie. As you will read in the timeline below, Putin ordered the withdrawal of Russian forces starting on April 1, 2022 as a good faith gesture about Russia's seriousness in complying with the 29 March Istanbul Agreement.
Chalk this up as one more massive war crime by the United States and NATO. They are accessories to murder. I have summarized the timeline presented in the Funke/Kujat article if you do not have time to read it in its entirety. I also am republishing their piece for your convenience. All of the death and destruction experienced in Ukraine and Russia could have been avoided. But the West was intent on dethroning Putin and carving up Russia. Once you understand this point I think you will appreciate that Putin and his Generals are no longer of a mind to give the West the benefit of the doubt. Destroying NATO's designs on Ukraine is now their chief aim in my view.
March 4, 2022 — Putin and Naftali Bennet speak via phone.
March 5, 2022 — At Putin's invitation, former Israeli Prime Minister Bennett flew to Moscow. Putin, Bennett said, had made some substantial concessions, in particular, he had renounced his original wartime goal of demilitarizing Ukraine. … .In return, the Ukrainian president agreed to renounce joining NATO. The Ukrainians did not agree to peace because they were not allowed to. They first had to ask the Americans about everything they discussed."
March 6, 2022 — Bennett and Scholz met in Berlin; on March 7, the United States, the United Kingdom, France, and Germany discussed the issue in a videoconference; on
March 8, 2022 — Macron and Scholz spoke on the phone; on
March 10, 2022 — Ukrainian Foreign Minister Kuleba and Russian Foreign Minister Lavrov met in Ankara; on
March 12, 2022 — Scholz and Zelensky and Scholz and Macron spoke on the phone; and on
March 14, 2022 — Scholz and Erdogan met in Ankara.
March 15-19, 2022…
Continue Reading