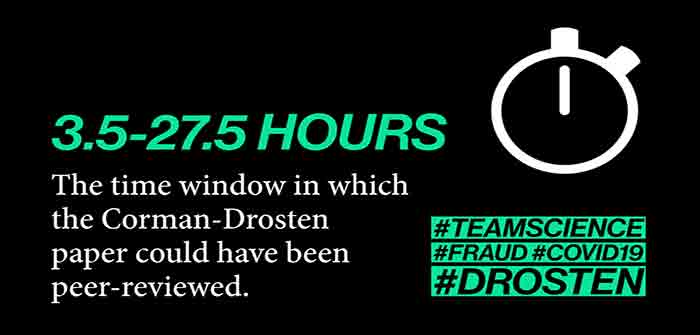 by Simon Goddek at goddek et al
In January 2021, I wrote two Twitter threads on the peer-review procedure of Christian Drosten's scientific publication about the Covid PCR test that formed the basis for the current political agenda. As an Editor of a Scientific Journal, I will give you some more insights into scientific peer-review processes and why fraudulent manipulation concerning Drosten's PCR paper most likely took place at the Journal of publication "Eurosurveillance".
Corman-Drosten PCR Paper
The scientific publication from Corman et al., with Christian Drosten as the corresponding author, set out principles with respect to the PCR testing procedure and is therefore considered critically. An international consortium of experts & scientists have critically analysed this mentioned publication and have found several serious flaws. These flaws, however, are mainly but not entirely of contentual nature. Unfortunately, until now, 20 months later, both the Journal and the involved authors failed to come up with counterarguments and explanations. In addition to substantive and conceptual weaknesses, the thing that worries me the most is how fundamental scientific principles have been compromised by the Journal "Eurosurveillance".
The graphic below shows the duration of the Journal's peer-review process. In 2019, the average time to publication for "original research papers" was 172 days, which is in line with my personal experiences. So why is a publication within such a period of time possible?
The Peer-Review Process
After writing the paper, the corresponding author (in this case Christian Drosten, who is also part of the Journal's Editorial Board) had to submit the article via a submission form that looks as follows. "Agreement with authors" is another required document…
Continue Reading