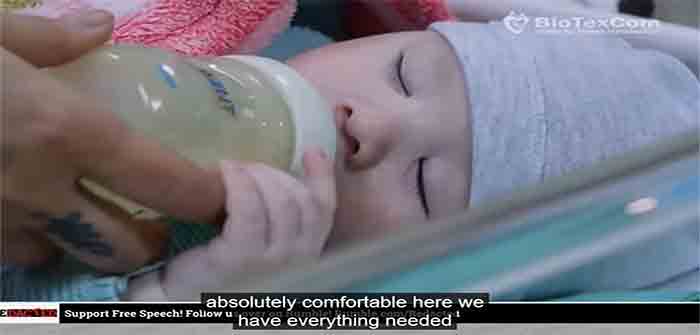 by Jeremy Loffredo at The Grayzone
While average Ukrainians suffer amid NATO's proxy war against Russia, business is booming for the surrogate baby industry, which requires a steady supply of healthy and financially desperate women willing to lease their wombs to affluent foreigners.
Surrogates "have to be from poorer places than our clients," explained the medical director of Kiev's largest "baby factory."
Ihor Pechonoha of the Swiss-based BioTexCom says the business model that enabled him to build one of the most profitable surrogacy companies in the world is simple exploitation: "We are looking for women in the former Soviet republics because, logically, [the women] have to be from poorer places than our clients."
It is no surprise then that BioTexCom's quest for rentable wombs has led it to the seemingly endless pool of desperate young women in war-torn Ukraine. Eight years of civil conflict combined with the subsequent proxy war between NATO and Russia has plunged Ukraine into economic disaster. As Ukrainians sank into poverty, their country swiftly emerged as the international capital of the surrogacy industry. Today, Ukraine controls at least a quarter of the global market—despite being home to fewer than one percent of the world's population. Alongside the industry's rise, a seedy medical underworld filled with patient abuse and corruption took hold of the country.
Ukrainian President Volodymyr Zelensky and his team have actively encouraged the West to plunder their war-torn country, inking an investment partnership with the global asset management firm Blackrock, stripping workers of labor protections, and handing state owned companies over to private firms.
Yet Ukraine's surrogacy industry has fallen under the radar, despite pumping over $1.5 billion into the country's economy in 2018 alone. Since then, the global market for surrogate babies has more than doubled. The industry was valued at over $14 billion in 2022, and is projected to grow by around 25% annually in coming years, according to an analysis by Global Market Insights.
As nations like India and Nepal slam the door on surrogacy companies citing concerns…
_______________________
Clayton and Natali Morris of Redacted News provide video of BioTexCom's Baby Factories in Ukraine at 1:28 into their daily news cast:
Here's the Huffington Post article Morris referred to in his broadcast – Ukraine Orphanages Feeder for Child Trafficking
Here's another one posted by Business Day – Inside the $1.7 BILLION Global Organ Trafficking Industry
Continue Reading