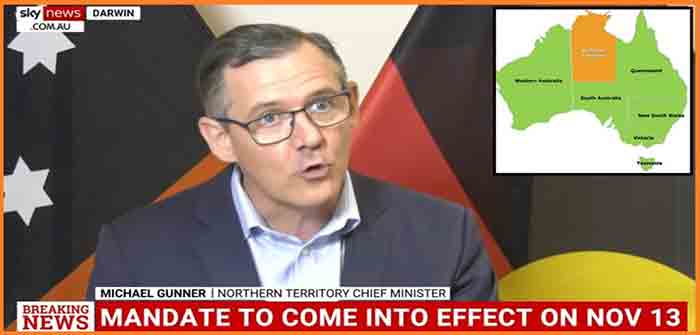 by Sundance at The Conservative Treehouse
If Australia is the totalitarian beta-test for western government (which seems likely), specifically in alignment with Joe Biden, then today's announcement from Northern Territory Chief Minister Michael Gunner portends the direction of the White House.
Chief minister of the Northern Territory Michael Gunner appears to be a man of intemperate disposition.  Describing himself as "intensely passionate" about forcing people to get vaccinated, Gunner announced today that all workers in the NT must be vaccinated by November 13th or face a $5,000 fine.
Good grief, considering this is a politician who presumably is responsible for leading people, this unstable guy projects himself as an angry power-thirsty totalitarian dictator.  WATCH:
The Northern Territory has seen just 214 cases of Coronavirus since the pandemic began in early 2020, and they have encountered zero deaths…. not one.  This over-the-top response is complete madness.
Around the world, an apartheid state has been created where two classes of people have been designated.  The unvaccinated are now routinely barred from indoor or crowded venues, "but the Northern Territory's rules go further than most democracies".  [Media Link]…
Continue Reading