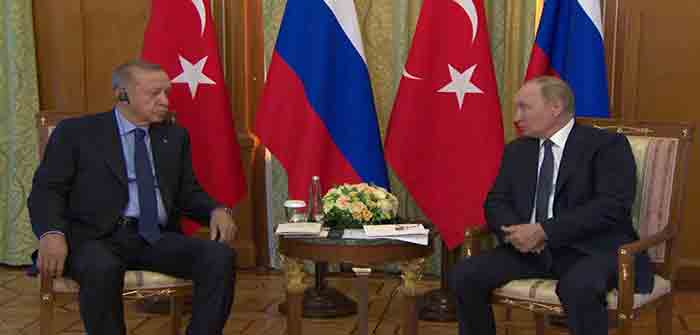 by Vladimir Odintsov at New Eastern Outlook
Russian President Vladimir Putin's meeting with his Turkish counterpart Recep Tayyip Erdoğan in Sochi on August 5 remains in the center of international attention and the media, given the very broad agenda of the talks — bilateral issues, regional problems and global challenges. The two presidents discussed the key importance of a relationship of trust between Moscow and Ankara in achieving international stability. The multifaceted nature of the discussions was confirmed by the composition of the Turkish delegation, which included the heads of key departments, such as the Foreign Ministry, Ministry of Defense, Ministry of Energy and Natural Resources, Treasury and Finance, Trade, Agriculture and Forestry. Hence, it is not surprising that the negotiations lasted more than four hours. They ended with the signing of a joint statement on the further development of ties between the countries.
Incidentally, this is the second face-to-face meeting between Vladimir Putin and Recep Tayyip Erdoğan in the last 17 days, as before Sochi they met in Tehran at a trilateral summit in the "Astana format", forming a peacekeeping axis together with Iran to counter Western aggression. The past meeting in Tehran has already been very positively assessed by the international community as a rather important stage in the development and strengthening of Turkey-Russia relations and the creation of the humanitarian conditions for a multipolar world that meets global requirements.
As for the negotiations in Sochi on August 5, they opened, in the already published assessments of many international experts, "a new page in Turkey's bilateral relations with Russia." According to analysts, the sides have demonstrated a willingness to find mutually beneficial solutions and have sent a clear signal to the West that Ankara is no longer looking to Washington in its growing cooperation with Russia, but is pursuing an independent policy.
During the discussions…
Continue Reading