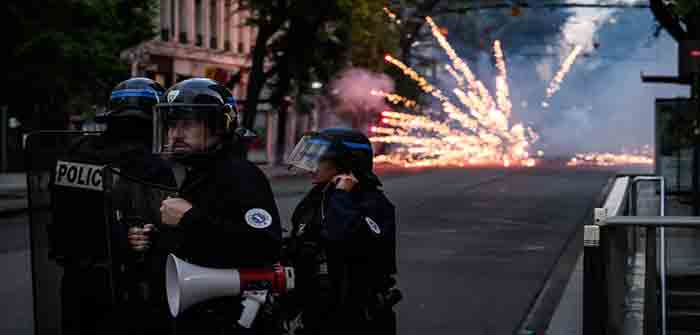 by Alex Krainer at Alex Krainer's TrendCompass
The government of French President Emmanuel Macron is under attack by the Anglo-American imperial establishment. The civil unrest that erupted across the nation was triggered by the 27 June 2023 Police killing of the 17-year old Nahel Merzouk (NM) in the Paris suburb of Nanterre. NM was driving a car without a driving license, failed to comply with police orders and for that he was shot point blank by two officers in full riot gear. NM was of Algerian origin. The next day, riots broke out in many cities across France: Paris, Marseille, Lille, Lyon, Bordeaux, Grenoble and also Brussels in Belgium. Some areas were left looking like war zones.
In fact, some of the riots did resemble low-intensity warfare. According to some reports, US weapons donated to Ukraine have found their way through black markets to the streets of French cities and into the hands of the protesters who used them in coordinated attacks on police and firefighters. Just on the night of Jun 30/July 1, 41 police stations were attacked, 79 police officers injured, 2560 fires were set in the streets, 1360 cars and 234 buildings were burnt. The government deployed 45,000 police and gendarmes to bring the situation under control, but thus far, the rioting has continued with great intensity for five straight days, threatening to destabilize the nation.
President Emmanuel Macron is under increasing pressure, not only from the rioters and the opposition, but more ominously, also from his own Police forces and the military. Police Unions of France wrote to Macron threatening to revolt: "Today the police are in combat as we are at war. Tomorrow we will be in the resistance and the government should be aware of this." Certain military circles appear ready to turn against Macron. General Pierre Villiers, who is apparently well respected among the French military commanders said that the army should be loyal to the people, not to Emmanuel Macron.
Nothing is what it seems…
Continue Reading