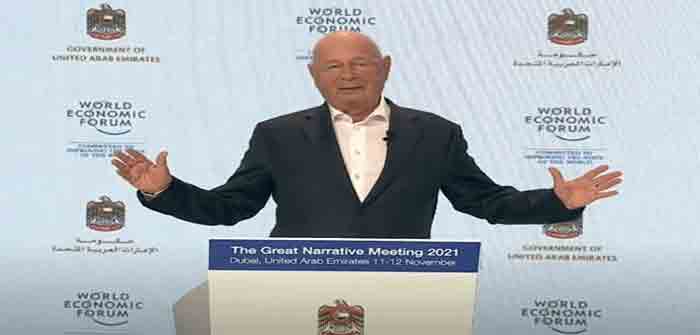 by Michael Lord at RAIR Foundation USA
Economist Ernst Wolff believes that a hidden alliance of political and corporate leaders is exploiting the pandemic with the aim of crashing national economies and introducing a global digital currency.
How is it that more than 190 governments from all over the world ended up dealing with the COVID-19 pandemic in almost exactly the same manner, with lockdowns, mask mandates, and vaccination cards now being commonplace everywhere? The answer may lie in the Young Global Leaders school, which was established and managed by Klaus Schwab of the World Economic Forum, and that many of today's prominent political and business leaders passed through on their way to the top.
The German economist, journalist, and author Ernst Wolff has revealed some facts about Schwab's "Young Global Leaders" school that are relevant for understanding world events during the pandemic in a video from the German Corona Committee podcast. While Wolff is mainly known as a critic of the globalist financial system, recently he has focused on bringing to light what he sees as the hidden agenda behind the anti-Covid measures being enacted around the world.
Mysterious Beginnings
The story begins with the World Economic Forum (WEF), which is an NGO founded by Klaus Schwab, a German economist and mechanical engineer, in Switzerland in 1971, when he was only 32. The WEF is best-known to the public for the annual conferences it holds in Davos, Switzerland each January that aim to bring together political and business leaders from around the world to discuss the problems of the day. Today, it is one of the most important networks in the world for the globalist power elite, being funded by approximately a thousand multinational corporations.
The WEF, which was originally called the European Management Forum until 1987, succeeded in bringing together 440 executives from 31 nations already at its very first meeting in February 1971, which as Wolff points out was an unexpected achievement for someone like Schwab, who had very little international or professional experience prior to this. Wolff believes the reason may be due to the contacts Schwab made during his university education, including studying with no less a person than former National Security Advisor and Secretary of State Henry Kissinger. Wolff also points out that while Schwab was there, the Harvard Business School had been in the process of planning a management forum of their own, and it is possible that Harvard ended up delegating the task of organizing it to him.
The Forum initially only brought together people from the economic field, but before long, it began attracting politicians, prominent figures from the media (including from the BBC and CNN), and even celebrities.
Schwab's Young Global Leaders: Incubator of the Great Reset?
In 1992 Schwab established a parallel institution, the Global Leaders for Tomorrow school, which was re-established as Young Global Leaders in 2004. Attendees at the school must apply for admission and are then subjected to a rigorous selection process. Members of the school's very first class in 1992 already included many who went on to become important liberal political figures, such as Angela Merkel, Nicolas Sarkozy, and Tony Blair. There are currently about 1,300 graduates of this school, and the list of alumni includes several names of those who went on to become leaders of the health institutions of their respective nations. Four of them are former and current health ministers for Germany, including Jens Spahn, who has been Federal Minister of Health since 2018. Philipp Rösler, who was Minister of Health from 2009 until 2011, was appointed the WEF's Managing Director by Schwab in 2014.
Other notable names on the school's roster are Jacinda Ardern, the Prime Minister of New Zealand whose stringent lockdown measures have been praised by global health authorities; Emmanuel Macron, the President of France; Sebastian Kurz, who was until recently the Chancellor of Austria; Viktor Orbán, Prime Minister of Hungary; Jean-Claude Juncker, former Prime Minister of Luxembourg and President of the European Commission; and Annalena Baerbock, the leader of the German Greens who was the party's first candidate for Chancellor in this year's federal election, and who is still in the running to be Merkel's successor. We also find California Governor Gavin Newsom on the list, who was selected for the class of 2005, as well as former presidential candidate and current US Secretary of Transportation Peter Buttigieg, who is a very recent alumnus, having been selected for the class of 2019. All of these politicians who were in office during the past two years have favored harsh responses to the COVID-19 pandemic, and which also happened to considerably increase their respective governments' power.
r.
But the school's list of alumni is not limited to political leaders. We also find many of the captains of private industry there, including Microsoft's Bill Gates, Amazon's Jeff Bezos, Virgin's Richard Branson, and the Clinton Foundation's Chelsea Clinton. Again, all of them expressed support for the global response to the pandemic, and many reaped considerable profits as a result of the measures.
Wolff believes that the people behind the WEF and the Global Leaders school are the ones who really determine who will become political leaders, although he stresses that he doesn't believe that Schwab himself is the one making these decisions but is merely a facilitator. He further points out that the school's alumni include not only Americans and Europeans, but also people from Asia, Africa, and South America, indicating that its reach is truly worldwide.
In 2012, Schwab and the WEF founded yet another institution, the "Global Shapers Community," which brings together those identified by them as having leadership potential from around the world who are under 30. Approximately 10,000 participants have passed through this program to date, and they regularly hold meetings in 400 cities. Wolff believes that it is yet another proving ground where future political leaders are being selected, vetted, and groomed before being positioned in the world's political apparatus.
Wolff points out that very few graduates of the Global Leaders school list it on their CVs. He says that he has only seen it listed on one: namely, that of the German economist Richard Werner, who is a known critic of the establishment. Wolff suggests that the school seems to like to include even critics of the system among its ranks, as another name among its graduates is Gregor Hackmack, the German chief of Change.org, who was in its 2010 class. Wolff believes this is because the organization wants to present itself as being fair and balanced, although it also wants to ensure that its critics are controlled opposition.
Another thing that the Global Leaders graduates have in common is that most of them have very sparse CVs apart from their participation in the program prior to being elevated to positions of power, which may indicate that it is their connection to Schwab's institutions that is the decisive factor in launching their careers. This is most evident when the school's alumni are publicly questioned about issues that they have not been instructed to talk about in advance, and their struggles to come up with answers are often quite evident. Wolff contends that their roles are only to act as mouthpieces for the talking points that those in the shadows behind them want discussed in public debate.
Schwab's Yes Men in Action…
Continue Reading