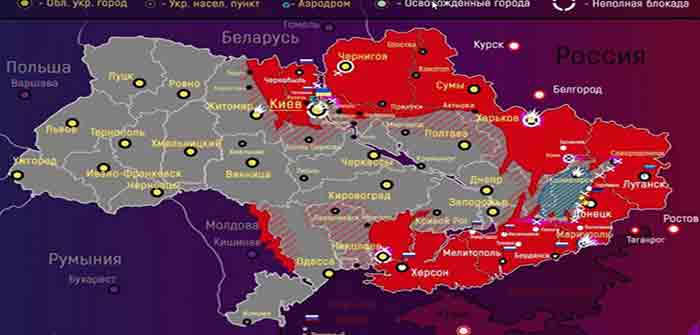 T-Room Note: There is an excellent 4-minute video summarizing events on the ground at the beginning of this article over at Southfront. 
by Southfront Staff at Southfront
On March 8, the Kyiv government continued to sabotage the evacuation of civilians via humanitarian corridors established by Russia despite the collapse of the Ukrainian forces' defense in the southern part of the country and the complex situation in the northeast.
On March 5, 6 and 7, Kyiv forces already denied the organized evacuation of civilians from Kharkiv, Kyiv, Mariupol, Sumy and Mykolaiv. Only a small number of civilians were able to withdraw from the blockaded cities. Many died under the shelling by Ukrainian forces that ignored the ceasefire regime established along the humanitarian corridors. Pro-Kyiv units intentionally opened fire at civilians that were seeking to withdraw towards the territory controlled by Russia and the people's republics of Donbas. On top of this, the Ukrainian side claimed that it was not acceptable to evacuate civilians towards the territory controlled by the Russians. Without doubt, Kyiv's forces need these people in its hands to use them as human shields and create the image of a humanitarian catastrophe amid the setbacks on the battlefield.
On the afternoon of March 7, Russian forces and the people's militias of the Donbass achieved notable successes in the encirclement of the grouping of Kyiv's forces in the eastern region. On March 7, joint Russian and LPR forces advanced in the direction of Slavyansk and Kramatorsk.
In the area of operations to the southeast of Kharkiv, Russian troops established control of the key town of Izyum. During the advance, a precise strike destroyed the local police station in Izyum, where the headquarters of the so-called territorial defense was located. The road towards Slavyansk is among the key directions of the advance here. The blocking of Slavyansk and Kramatorsk are needed to even further reduce the maneuverability of the Ukrainian Armed Forces that remain in the east of the country.
Meanwhile, forces of the Lugansk People's Republic reached the outskirts of Severodonetsk and took control of the villages of Kudryashovka, Voronovo, Metelkino, Medvezhye, Askoronovka, Petrovka and Alexandrovka.
The joint force of the Donetsk People's Republic and Russia are narrowing the encirclement around Mariupol. DPR units have established control of the village of Mangush on the western outskirts of the city.
Also, DPR forces advanced in the direction of Vladimirovka, took control of the settlements of Latmoye, Berezove, Yasnoye, Maksimovka and Valeryanovka, encircling Ukrainian forces in the Volnovakha district from the north.
Around Kyiv, the fighting continues in the Bucha area…
Continue Reading