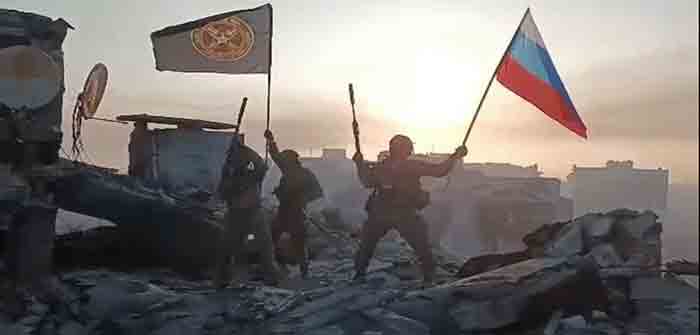 by Helen Tansey at The T-Room
Bakhmut fell late last week to Russia's Wagner Group, a maturing Foreign Legion type of armed force, with the  Russian military providing a steady supply of weaponry, ammunition, armored vehicles, air support, drone expertise tech support which is all coordinated.
Sanctions have had little effect, if any, on Russia's war footing. Their heads are down, they are focused on the mission, they are trained and they are equipped.
After spending nearly 15 years covering dozens of various military advances, I can honestly say what just took place in Bakhmut was the most horrific on every level.
Following the battle through Russian and Ukrainian Telegram channels, viewing countless number of clips and videos and reading my 'go to' military experts daily leads me to say unequivocally the Ukrainian military paid an extremely high price to hold Bakhmut:
"Bakhmut meat grinder" has become one of the most fierce and bloody battles since the Great Patriotic War.
ㅤ
The battle, which lasted 224 days, meant not the capture of the city, but the grinding of the enemy forces.

The irretrievable losses of Ukrainians in the Bakhmut region since February 22, 2022, amounted to 55,000 killed.

By the way, this is three times more than the USSR lost in 10 years in Afghanistan.

The number of Ukrainian formations that opposed Wagner could reach 221.

"Our task is to grind the Ukrainian army, not to allow them to mount a counteroffensive."
           – Noted by Evgeny Prigozhin on Telegram by the leader of the Wagner Group, 05 – 2023
And grind they did. 55,000 lives lost in the span of four plus months. Can you imagine? How does a small country like Ukraine absorb such a catastrophic loss much less continue to fight another day? They don't.
It will take a bit of time for this reality to sink-in for the armchairs back here in the United States and Europe but trust it will. It must!
Russia may be demilitarizing, but make no mistake about it, Ukraine is depopulating the entirety of their country. Millions have fled the country with no intention to return while those remaining are being conscripted to be thrown into Prighozin's 'meat grinder' on the frontlines.
Ukraine could be given all the weaponry in the world and they would still experience defeat for one fundamental reason – there will be no Ukrainian left to fight. The trajectory is truly unsustainable.
China and South Africa along with Hungary's Orban are all making efforts to resolve this conflict in the interest of all parties involved, but the Biden administration along with the UK leadership stubbornly refuse to allow their minds to absorb this massive loss of life not to mention defeat, and what it means to a viable future for Ukraine. The people of Ukraine mean nothing to them. Their lust to carve-up Russia stealing all of her natural resources is all that matters. Full STOP. Pure greed and hegemony is what drives them.
Sadly, Col Macgregor appears to confirm my armchair thoughts expressing even more concern than I am. All of this is so unnecessarily tragic.
WATCH:
Continue Reading