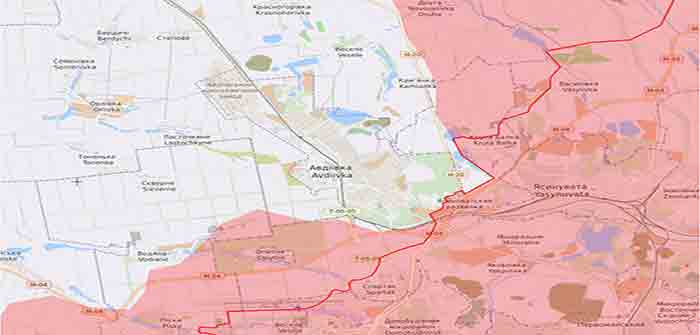 by Bernhard at Moon of Alabama
Bakhmut is encircled. All roads in and out of it are under Russian artillery fire. Over the last three days fighting has largely stopped there. No one seems to know why the operation was halted.
There are unconfirmed claims that Ukraine is preparing a counterattack to free Bakhmut from its encirclement. That attack is supposed to go off as soon as the muddy ground has dried up a bit.
Meanwhile other encirclement has taken place in Avdiivka:
Avdiivka (Ukrainian: Авдіївка, IPA: [ɐu̯ˈd(j)ijiu̯kɐ]; is a city of regional significance in Donetsk Oblast, Ukraine. The city is located in the center of the oblast, just north of the city of Donetsk. The large Avdiivka Coke Plant is located in Avdiivka. The city had a pre-war population of 31,392 (2022 est.); in August 2022, its population was estimated at 2,500.Avdiivka was within the claimed boundaries of the separatist Donetsk People's Republic, before Russia declared its annexation of the entire region in September 2022. During the war in Donbas, Avdiivka became a frontline city and saw a battle in 2017. During the 2022 Russian invasion of Ukraine, heavy fighting led to Avdiivka being largely destroyed and most of its population having fled.
March 8, 2023


Source: LiveUAmap – bigger
Avdiivka is strongly fortified. Its coke plant is a strong-point. The Ukrainian army used the city to lob artillery into Donetsk city. But attempts to seize it were largely unsuccessful.
Two week ago the situation suddenly changed. The Russian airforce started to bomb Avdiivka with heavy glide bombs. At the same time an operations was launched to envelope the city from two directions.
March 21, 2023


Source: LiveUAmap – bigger
An east to west move north of Avdiivka cut the rail access to the city. Russian forces crossed…
Continue Reading