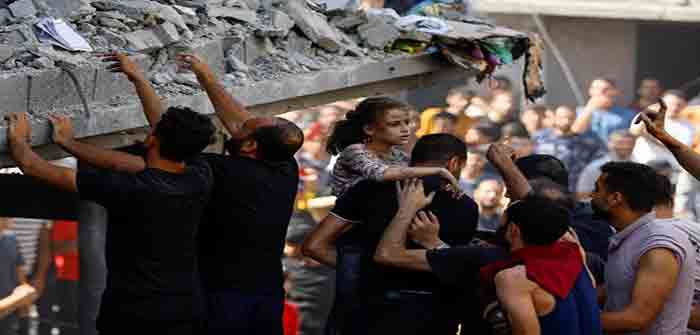 by Helen Tansey at The T-Room.us
A couple of stories you might be interested reading:
UN Secretary General Calls for End of Zionist Bombing
The Existential Trap: The Pentagon Has Just Fallen Into It, As Biden Tries to Avoid Carter's Hostage Rescue Disaster
UN Begs for More Aid to Enter Gaza As Hospitals Run Out of Fuel
Zionist Think Tank's Blueprint for Gaza Ethnic Cleansing
___________
Sept 25th SITREP on Israeli War in Gaza:
— /// 19th day of the war, October 25th, status update and major events:
– Airstrikes on Gaza. Still a huge lack of food, water, medicine and electricity. The healthcare sector in Gaza is non-existent at this point.
– Netanyahu gave a speech, officially announcing that a ground offensive into Gaza will happen, and that the date for the invasion has been set.
– Hamas used long range rockets and one of them hit Rishon LeZion. Small sporadic rocket attacks on Tel Aviv as well.
– Hezbollah carried out attacks against IDF targets across the border in Hanita, Al-Bahri and Avivim using ATGMs. At least one Merkava was destroyed. Today's activity on the northern front was very limited once again.
– The amount of officially announced Hezbollah martyrs has risen to 44.
– As a response to Hezbollah attacks, the IDF carried out artillery shellings and drone strikes on Hezbollah positions in South Lebanon, but once again much less than previous days.
– The Islamic Resistance in Iraq carried out an attack on the U.S. occupation base in Kharab Al-Jir in Syria.
– An Israeli UAV crashed in Ma'alot Tarshiha. Cause currently unknown, although a Hezbollah surface-to-air missile was fired at an IAF drone earlier in the evening.
– The Iranian Foreign Minister arrived in New York for what was described as 'urgent international consultations' regarding Gaza and the possibility of wider escalation in the region.
___________
Matt Hoh joined the Judge to talk about propaganda and war. Hoh is a former marine and State Department employee. This guy knows his chit. Really, really good –
___________
"Israel, the West owes you a lot, and Turkey does not," Erdogan
The President and Chairman of the AK Party, Recep Tayyip Erdogan, made this announcement during a meeting of his party's group in the Grand National Assembly of Turkey.
Key points on the Palestinian-Israeli conflict:
➡️Visits by high-ranking Turkish officials to Israel have been canceled.
➡️Turkey protests against Israel's policies in the Gaza sector.
"Hamas is not a terrorist organization, it is a group of mujahideen fighting for the protection of their land!" – Turkish President.
➡️The USA, together with Israel, will lose because they stand against the establishment of justice, and justifying attacks is a legacy of the West's bloody history.
➡️Turkey intends to continue sending humanitarian aid to the Gaza sector, which is under attack by Israel, and the border crossing at "Rafah" should be opened.
Via: @RVvoenkor
____________
Following are a few insightful comments from posters over at Moon of Alabama's site:
The news of the Eisenhower, previously directed to set sail for the Israeli coast to join the Ford, being directed instead to head to the Gulf and be aimed at Iran rather than Syria seems to have gone under the radar.
https://maritime-executive.com/article/pentagon-diverts-carrier-uss-eisenhower-to-protect-troops-in-mideast
Earlier this month, the Pentagon dispatched the carrier USS Dwight D. Eisenhower to the Eastern Mediterranean in order to prepare for possible contingencies related to American-backed Israeli operations against the terrorist group Hamas. Eisenhower was deployed to serve as a message to Iran and its proxy forces in Syria and Lebanon to stay on the sidelines and out of the conflict. This week, the situation has evolved: with Iranian-backed forces launching missile and drone attacks against American forces in Iraq and Syria, Eisenhower will head to the Middle East instead and will prepare to defend U.S. troops.
It always seemed odd to have two carriers aimed at Syria when if you get into it with Syria you're getting into it with Iran too. It seems the neocons see this too now. The US is preparing for a war with Iran.
Posted by: Altai | Oct 25 2023 11:19 utc | 25
______________
John Helmer has a great piece:
"Hanging out with or near Israel just became very dangerous," according to a US military source familiar with the situation. "I think the Houthi firing, trap or not, scared the shit out of them [Pentagon]. The number of drones and missiles the Carney 'shot down' keeps going up. It's not just the missiles they are worried about. Iranian drone technology, and their capacity to get them into the hands of their allies, must be causing alarm. What scares them about the Chinese task force is the range of its cruise missiles as well as its capacity to link up with Iranian and (I assume) Russian air defence radar and targeting networks. They've all been practicing together."
"Every American and allied base in the region is now under a joint, mutually supportive, Russian, Iranian and Chinese umbrella. In short, a trap."
https://johnhelmer.net/the-existential-trap-the-pentagon-has-just-fallen-into-it-as-biden-tries-to-avoid-carters-hostage-rescue-disaster/
Posted by: Moses22 | Oct 25 2023 13:25 utc | 61
______________
Violence begets violence is a very old and well understood maxim that's clearly being ignored as Zionism says Palestine is only for Zionists. Today's Global Times editorial isn't specifically about Palestine but touches on one of the main reasons for the perpetuation of the violence and willful intent to support it by the Outlaw US Empire, "US politicians need to cleanse their hearts of 'evil' thoughts":
It's evident that polarized thinking and ideological paranoia are spreading rapidly in Washington. A country with the world's most powerful military acting in a manner reminiscent of the "Inquisition" – simple, crude, and extreme – is sure to have frightening consequences.In contrast to "evil" is "justice." Labeling others as "evil" implies that whoever does so is the embodiment of "justice," naturally standing on the moral high ground. If the other side is considered evil, then it becomes a matter of righteousness to strike against the "evil side," as if one were acting on behalf of justice. Justice and evil leave no room for compromise or coexistence; it's a fight of "kill or be killed." If this extrapolation continues, the world will become even more brutal than a jungle society.

The problem is, who gets to determine what is "evil" and what is "justice"? The US undoubtedly lacks the qualification. Its use of this binary, black-and-white, dualistic thinking to view today's diverse world and handle extremely complex international relations is, in fact, turning itself into the "evil" side.
The concluding paragraph could be used in many situations since WW2:
"China is not part of any "axis of evil," and this is beyond doubt and not worth refuting. Those who use this term should examine their own hearts and clear away any truly evil thoughts residing within. If some politicians in Washington say such things, they can be dismissed as madmen. However, if there are many who say it, then Washington should engage in collective introspection and reflection. This matter is not to be taken lightly." [My Emphasis]
Of course, the bolded portion above will be avoided by the "madmen" and women that are supposedly representative of the US public, and those same words can be directed at Zionists and Nazis.
Posted by: karlof1 | Oct 25 2023 13:42 utc | 70
______________
❗️ (https://qr.nspk.ru/BS1A0068ID10D33B9IBAQRQ4M9T0NIFN?type=01&bank=100000000008&crc=36CB) Situation Update: Israeli-Palestinian Conflict as of 14:00, October 25, 2023
Northern and Eastern Directions:
▪️The area is currently experiencing temporary calm: Palestinians attempted to launch a missile attack on Eilat using an Ayash-250 missile, but it failed during approach.
Border with Lebanon:
▪️Following a night pause, fighters from Hezbollah fired at Israelis in Zarit, Yiftah, and Avivim. The IDF is responding with strikes and artillery fire in southern Lebanon.
▪️Less than an hour ago, Hamas announced the launch of a long-range R-160 rocket towards Haifa from the Gaza Strip. IDF representatives later reported that the rocket exploded in the air.
Gaza Strip:
▪️No significant changes have been observed in the Gaza Strip. The Israeli forces continue to heavily damage the enclave. Yesterday evening, reports surfaced online about an IDF strike on the house of the head doctor of the children's hospital, Kamal Khattab, resulting in serious injuries to him and the loss of most of his family.
West Bank:
▪️The situation remains stable in the West Bank, where Israeli security forces are conducting mass detentions of local residents throughout the Palestinian territory.
▪️In Jenin, Palestinians ambushed IDF fighters, detonating a landmine on the road and injuring four soldiers. The Israelis responded by launching a helicopter attack on the city.
Border with Syria:
▪️In response to shelling from Syrian territory in the Israeli-occupied Golan Heights, IDF aircraft carried out strikes on Daraa in the Syrian Arab Republic during the night.
▪️Less than an hour ago, the Israelis once again targeted the airfield in Aleppo with artillery fire.
Political Background:
▪️Turkish President Recep Tayyip Erdogan announced in his speech that he has canceled his visit to Israel due to the killing of Palestinians by IDF fighters.
He also expressed the opinion that Hamas is not a terrorist organization but a liberation group.
Previous Summary (https://t.me/rybar/53588) #digest #map #Israel #Palestine
Support Us (https://qr.nspk.ru/BS1A0068ID10D33B9IBAQRQ4M9T0NIFN?type=01&bank=100000000008&crc=36CB) Original msg (https://t.me/rybar/53604)
__________
Israel Begins Denying UN Officials Visas after Guterres States Hamas Attacks "Didn't Happen in a Vacuum"
"Due to his remarks, we will refuse to issue visas to UN representatives," 's UN ambassador Gilad Erdan told Israeli Army Radio.
"We have already refused a visa for Under-Secretary-General for Humanitarian Affairs Martin Griffiths," Erdan said. "The time has come to teach them a lesson."
The truth hurts…
___________
[ Album ]
◾ Israel continues its heavy bombardement on the Gaza strip. There is no safe place to be, entire streets get razzled to the ground killing dozens on each strike, allegedly targeting individual members of Hamas.
– There are no rescue crews available any longer, neighbours and families dig up their injured and dead from under the rubble with whatever means they can, most often their bare hands.
◾Follow:
t.me/UkraineHumanRightsAbuses
___________
If Putin wanted to take Kiev in 3 days, he would have razed the city to the ground, like Israel is doing in Gaza.
But there are 3 million people in Kiev, and unlike Israel, Russia's fight is not with the civilian population, but with the neo-Nazi regime in Kiev, which has killed tens of thousands of ethnic Russians in Donbass since 2014.
Since the beginning of SMO, Russia has evacuated millions of people from the war zones in the Donbas.
There was no evacuation in Gaza. Thousands of people including children have been killed in Israeli bombings
What Israel is doing in Gaza is pure terrorism and genocide.
Unlike Ukraine, Hamas has no place to evacuate civilians. They are not bringing them to the fight on purpose or using them as shields, like Ukraine and israel does.
Hamas is mostly made up of civilians themselves who want to fight.
Follow: https://t.me/RussianBaZa
__________
Professor John Mearsheimer advises against Israeli ground invasions or ongoing bombing in Gaza, citing Palestinian civilian casualties enraging the Arab world and jeopardizing Western support. Moreover, eradicating Hamas would likely create a more radicalized replacement group.
"I think the Israelis have come to realize that this is not a smart idea, going into Gaza and trying to eliminate Hamas will cause more trouble than it's worth. And then, in the end, even if you were to eradicate Hamas, you'd get a new radicalized group in its place, you're not going to solve the problem with military force. This is a political problem…
They're in a damned if you do, damned if you don't situation because if they don't go in Hamas lives to fight another day. And they're well armed, and they're going to continue to cause problems.
Then, if they don't go in, they bomb Gaza. But this is a total disaster, not only because, from a human point of view, from a human rights point of view, just seeing civilians killed is an absolutely horrible thing. But also, it does no good strategically. It doesn't solve the problem.
It just enrages people inside the Palestinian world inside the Arab world. And it even loses support over time for Israel in the West. So bombing is no solution either. So, the Israelis are really between a rock and a hard place. I don't know what they do to fix the problem. And this gets back to my earlier point that the solution to this was a two-state solution."
Professor John Mearsheimer advises against Israeli ground invasions or ongoing bombing in Gaza, citing Palestinian civilian casualties enraging the Arab world and jeopardizing Western support. Moreover, eradicating Hamas would likely create a more radicalized replacement group.… pic.twitter.com/S77ji4Cz3W

— KanekoaTheGreat (@KanekoaTheGreat) October 19, 2023
__________
Also from KanekoaTheGreat
JUST IN – Israel is delaying the Gaza invasion to allow the Pentagon to swiftly deploy nearly a dozen air defense systems across the Middle East, covering U.S. troops stationed in Iraq, Syria, Kuwait, Jordan, Saudi Arabia, and the United Arab Emirates.

U.S. military officials… pic.twitter.com/JYDOtUJMkG

— KanekoaTheGreat (@KanekoaTheGreat) October 25, 2023
__________
[ Album ]
◾GAZA UPDATE:
– 2,704 Palestinian children have been killed by the Israeli military's bombardment of the Gaza Strip, including 344 children just in the last 24 hours. At least 900 children are missing under the rubble.
-Nearly 70% of Palestinians killed by this Israeli onslaught were children & women. Of the more than 1,500 people that are either trapped/dead under the rubble of destroyed homes,at least 800 are children.
◾Follow:
t.me/UkraineHumanRightsAbuses
__________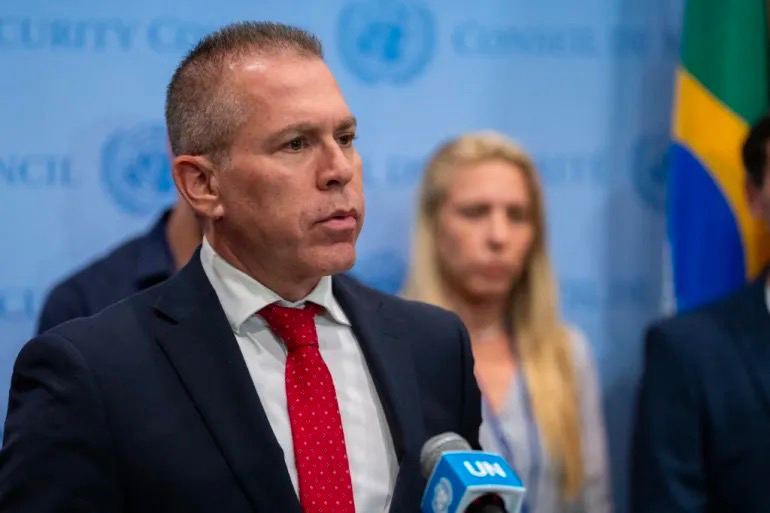 Israel's Cynical Defiance with the UN: A Condemnation Wrapped in Hypocrisy
In a recent development, Israel has proclaimed to deny visas to UN officials, showcasing its escalating discord with the global body and basic international norms. This announcement comes in the aftermath of UN Chief Guterres's critique on Israel's actions in Gaza, which, albeit indirect, highlighted the suffocating 56-year occupation Palestinians have endured.
Israel's Ambassador to the UN, Gilad Erdan, 'wounded' by Guterres's remarks, declared this visa ban as a lesson for the UN, marking a new low in Israel-UN relations. The Israeli Foreign Ministry even demanded Guterres's resignation, accusing him of showing understanding towards terror. Meanwhile 6,500 Gazans are now dead.
The US's unflinching support for Israel's brutal bombardment, epitomized by its veto against a humanitarian pause, unveils an abominable alliance steeped in hypocrisy. As Secretary of State Antony Blinken peddles a resolution that conveniently skirts around a full ceasefire, the US's facade of being a broker for peace shatters, revealing a sinister agenda that holds human lives in contempt​.
Israel's visa ban, a petulant retort to justifiable global reproach, is a damning testament to its audacious defiance of international norms and law. The merciless veil of Western geopolitics continues to suffocate the cries for humanity in Gaza. Amidst this grim narrative, one can't help but brood over a harrowing query: When will the masquerade of moral righteousness crumble to reveal the grotesque face of the Israeli-US cynical political agenda?
__________
Continue Reading