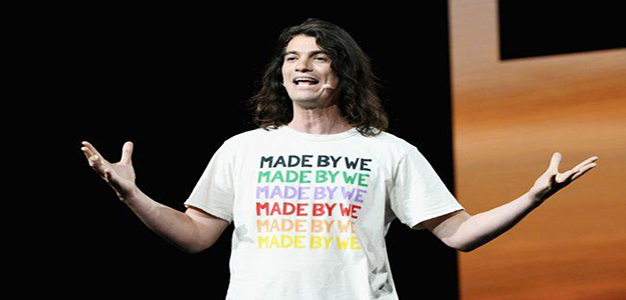 by Pam Martens and Russ Martens at Wall Street on Parade
WeWork, the flexible-office-space company, is the quintessential proof that you can't put lipstick on a pig forever. On Tuesday, the Wall Street Journal reported that WeWork " is planning to file for bankruptcy as early as next week…."
On October 5, the credit ratings agency Fitch downgraded WeWork's long-term debt deeper into junk bond territory after WeWork elected to withhold interest payments on its debt that were due Oct. 2. Year-to-date, the publicly-traded stock of WeWork has lost 98 percent of its value. Its shares were trading for pennies in August on the New York Stock Exchange when the financial wizards at the company came up with the idea to do a 1-for-40 reverse stock split in early September to put a little lip gloss on the pig. Yesterday, the stock closed at $1.11, which would mean that it actually closed at just under 3 cents were it not for the 1-for-40 reverse stock split.
The collapse in the share price in August came as a result of an 8-K filing with the Securities and Exchange Commission on August 8 which had included these fatal words: "…as a result of the Company's losses and projected cash needs, combined with increased member churn and current liquidity levels, substantial doubt exists about the Company's ability to continue as a going concern."
Back in 2019, venture capitalists had valued this company at $47 billion and were hoping to cash out in a hot IPO. Yesterday, the company closed with a market value of $59 million.
JPMorgan Securities LLC, a unit of five-felony-count JPMorgan Chase,…
Continue Reading